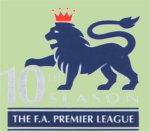 Leading League goalscorer:
Thierry Henry
(Arsenal)
24 goals
Because of the security situation in Israel six Chelsea players - captain Marcel Desailly, Emmanuel Petit, Eidur Gudjohnsen, Graeme Le Saux, William Gallas and Albert Ferrer - declined to travel to the country to play for Chelsea in a UEFA Cup-tie against Hapoel Tel Aviv. Chelsea lost 2-0 and were to lose the tie 3-1.
In April 2002 Fulham announced what was then a record loss for a football club in Britain - £23.3 million for the financial year to 30th June 2001. It seemed like a fortune at the time - then came Roman Abramovich!