Football Facts & Figures

Almost everything you might want to know about
Premiership and Football League clubs
and the competitions they have played in


The Clubs
A season-by-season summary for each of the 136 clubs who have played in the
Premier & Football Leagues giving details of League record and round reached
in the F.A. Cup and League Cup.
Then click down to League tables and playing record for each season.
The Premier League and Football League
The champions of each division since the 1888/89 season, then click down to
League tables and seasons' results for each club.
The F.A. Cup
All the F.A. Cup Finals since 1871/72, then click down to results by season.
The League Cup
(includes Worthington Cup, Coca Cola Cup etc)
All the League Cup Finals since 1960/61, then click down to results by season.
Community/Charity Shield (results, venues, teams etc)
European Club Competitions

League clubs results in Europe
Every result of Premiership/Football League clubs who have
played in European competition on a club-by club,
season-by-season basis

Champions League/European Cup
Europa League/UEFA Cup
European Cup Winners Cup
All the finals of the major European competitions since their formation, then click down
to results by season.

European Super Cup
Miscellaneous
Football History
A few stories from the rich and varied history of football.
Colemanballs
Some hilarious 'foot-in-mouth' football quotes.

Did You Know...
Football has a million and one stories and just as
many facts and figures.
Here are a few of them - the record-breaking, unusual and bizarre.
Football On This Day
Football is a 365 day a year game.
A reminder of some of the famous, record-breaking or bizarre things that have happened
Day by Day over the years.
Football Awards
Footballer of the Year, Player of the Year, European & World awards and
BBC Sports Personality awards etc
Front Page Pictures
For past PHOTOGRAPHS -
Football Grounds - Players, Managers, Fans etc - Team Groups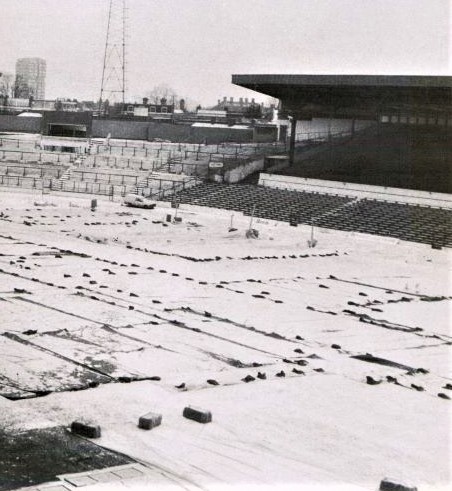 A picture of Stamford Bridge showing why a Chelsea v Sheffield Wednesday League Cup 5th Round tie scheduled for Wednesday January 16th 1985 was postponed. Arctic conditions saw Chelsea groundsmen David White, John Anstiss and Bob Bushell work overnight in an attempt to keep the Stamford Bridge pitch playable. Battling the weather back then in SW6 revolved around the use of straw. Usually it was just a case of simply covering the pitch with straw but back in 1985 Chelsea used a tad more advanced method - the straw was put in plastic bags which were then heated before being placed on the pitch! Nowadays preventing the pitch from freezing would be achieved by pressing a button to switch on the undersoil heating system but back in the 1980's there were doubts about the effectiveness of undersoil heating. It might solve the pitch problems but freezing conditions on the terraces would leave them dangerous and give another reason for a postponement. Terraces - remember them! The match against Sheffield Wednesday was eventually played on January 28th but two replays followed before Wednesday progressed to the semi-finals.
* * * * *
A bit of humour in the programme notes is always welcomed and back in the 1953/54 season Aldershot - then in Division 3 South - printed in their programme what they thought were the reasons for their poor home attendances -
Population of Aldershot & District
50,000

Less: people over 65 not interested in football, have rheumatics or other old age complaints

15,000
Less: babes in arms and other toddlers

10,000
Less: people in hospital, lunatic asylums, public houses, services, or otherwise indisposed

8,000
Less: husbands on allotments or at home doing housework and wives out shopping

12,000
Less: people in jail

250
Less: shop assistants and others working during football hours

3,904
Less: gatemen, officials, police and others who do not pay for admission

150
Less: people who have acquired complimentary tickets

200
Less: people who have climbed over railings

482
Leaving 14: manager, trainer, secretary, 11 players

Thankfully the visitors bring some supporters with them!
And the maths are dead right!
* * * * *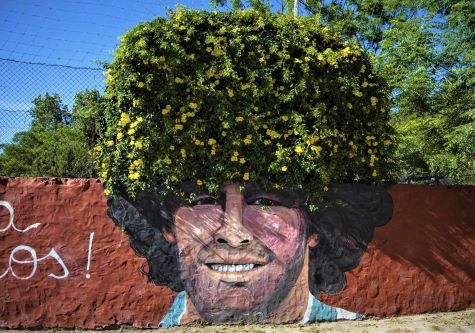 Not being in any way artistic - sadly - if I saw a blank wall with a bush in flower behind it I wouldn't be able to think of any association with football. But that's not the case in Argentina though when an artistic football fan saw those raw materials and turned them into a mural of that iconic Argentinian footballer Diego Maradona. Hairstyles are a tad different now!
* * * * *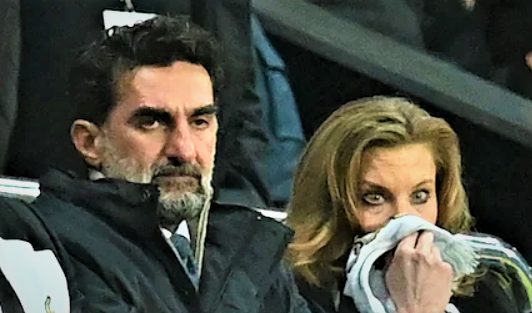 Money may well help but it is a a fact of football that money alone will not guarantee success. In October 2021 a Saudi Arabian backed consortium completed a long-protracted buy-out of Newcastle United making United - it was widely reported - the richest club in the world. But sadly for the Toon Army there was no dramatically quick change of fortune for the Premier League club. Their first match of 2022 was a home FA Cup tie against League 1 club Cambridge United. Two Newcastle directors were present at St James' Park - Yasir Al-Rumayyan and Amanda Steveley - and as you can see from the look of despair and horror on their faces they witnessed a 1-0 victory for Cambridge. Money doesn't buy success - I think a better investment would be in Premium Bonds!
* * * * *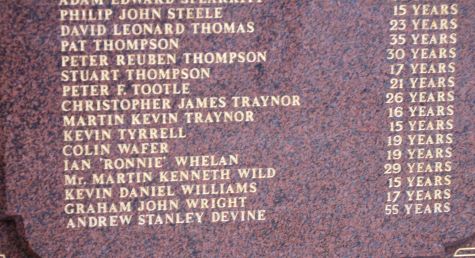 Thursday January 27th 2022
I was in Liverpool today to check out the mural of Anne Williams near the ground and visited the Hillsborough memorial to pay my respects. They were just finishing adding the 97th name to that memorial - Andrew Devine. My thoughts are genuinely with his family and friends and those of the other victims of the tragedy that was Hillsborough. And what happened that day was genuinely a tragedy, a tragedy made even worse by the total inability of those whose responsibility it was and is to ensure safety and justice for us all did absolutely nothing to respect those 97 lost lives. Nothing less than a national disgrace, then and now.
* * * * *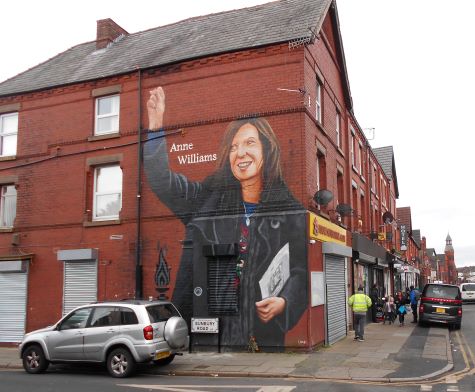 Anne Williams was the mother of one of the Hillsborough victims, 15-year-old Kevin Williams. She fought tirelessly for truth and justice for he son and all the victims of the Hillsborough tragedy. Sadly she died of cancer aged just 62 in 2013 but her life and campaigning gained a national audience in the brilliant ITV drama Anne which was first screened in January 2022. Anne was portrayed by Maxine Peake on TV but the mural of the real Anne Williams faces Anfield, just a few minutes walk from the Hillsborough memorial.
A visit to both is a genuine must for us all.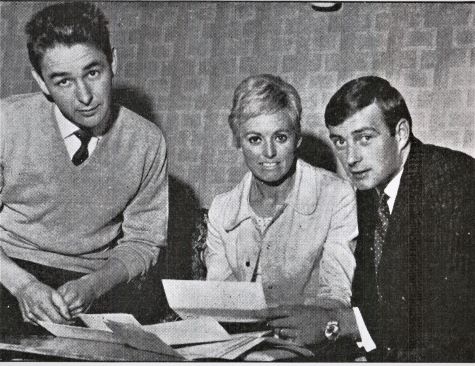 Doesn't Cloughie look young! Brian Clough welcoming new signing John O'Hare - and his wife - to Derby County in 1967. Signed from Sunderland he proved to be a bit of a favourite with manager Clough over the years. When Cloughie left Derby John O'Hare was one of the few signings he made in his 44 days as boss at Leeds and he then followed the manager to Nottingham Forest. He won League championships with both Derby and Forest, was a sub in Forest's 1980 European Cup final victory and was capped 13 times for Scotland.
* * * * *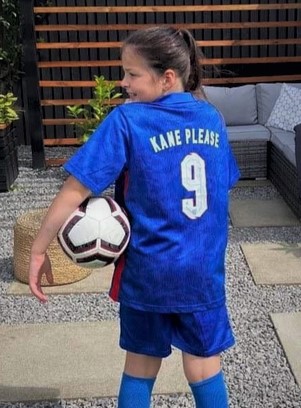 It doesn't always pay to be too polite.
When Richard Dexter ordered a Harry Kane shirt as a present for his daughter Lily he was good-mannered enough to say please when making the order.
So that's the shirt he got!!
* * * * *
I was interested to read this in my newspaper.....

'At the 2006 World Cup the concept of the WAGs was cemented into the
popular consciousness when pictures of the glamorous wives and girlfriends
of England's football stars were plastered across TV, print and online'

OK, the term WAGs (wives and girlfriends) may have been invented at the turn of the
century but those pictures of the glamorous partners of our footballers have been
with us since the first cameras were taken to football matches. Pictured above is one of those photos, the glamorous wives and girlfriends of the Norwich City players from the 1960s
* * * * *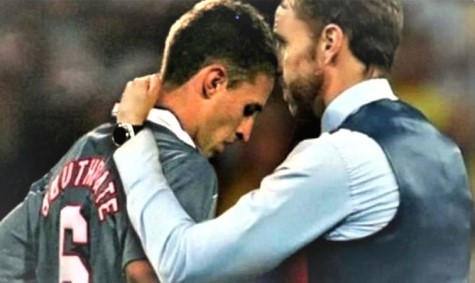 A popular image which made its bow in the early part of England's campaign to win the 2021 Euro Championships (delayed by Covid from 2020). In it Gareth Southgate the manager was consoling Gareth Southgate the player. It was all about penalties - Gareth Southgate the player had missed the vital penalty that saw England lose to Germany in the penalty shoot-out in the Euro 96 tournament semi-finals at Wembley (details). As England manager we just knew that Gareth Southgate was almost inevitably going to be consoling players after an England defeat in a penalty shoot-out at these Euro's! Sadly that was to turn out to be true. Us English had hoped that football would be coming home when we reached our first major final since the 1966 World Cup - but the Italians got the better of us in a Wembley penalty shoot-out. In my playing 'career' I only took one penalty - in a house cup final at school - and over the bar it went! I will never forget that so I can't imagine the mental pain players must suffer when they miss penalties in such high-profile matches. Add to that the tragic online abuse the three England players who missed their pens against Italy suffered and you have to ask is it right to put players through that sort of torment or is there a better way to decide cup-ties that finish level at the final whistle?
* * * * *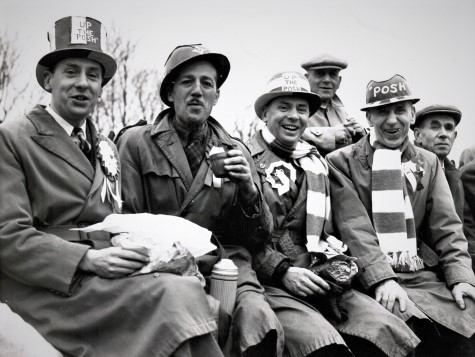 Posh fan Bert Edis (pictured left) with family and friends take a refreshment break on their way to support Peterborough United in their away FA Cup match at Vauxhall Motors back in November 1947. And they certainly looked posh wearing rosettes, scarves and hats - as well as ties - in those far-off days before club shops came along to provide replica shirts which then became the club uniform for many supporters. The match was a Fourth Qualifying Round FA Cup tie with a 3,148 crowd witnessing a 2-1 victory for Vauxhall Motors (Luton) over then Midland Leaguers Posh. Amazingly it was Vauxhall Motors seventh FA Cup tie of the season with victory seeing them reach the First Round proper of the competition for the first time. Their eighth - and last match in the competition that season - was a biggie with a home draw against Football League side Walsall. The match was played at Luton Town's Kenilworth Road ground with Walsall finishing 2-1 victors.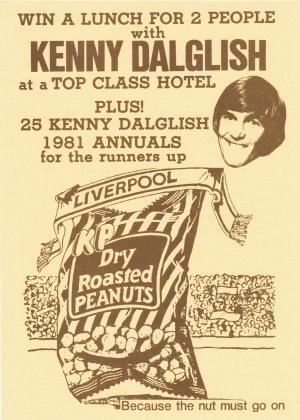 I came across this advert flyer falling out of an old Liverpool programme. Kenny Dalglish was a Liverpool legend who was at the height of his playing fame in the early 1980s and thanks to KP Dry Roasted Peanuts you had a chance to win a lunch with the great man at a Liverpool hotel. All you had to do was to state, in no more than 30 words, how you would cure violence on the terraces and also how many packets of KP Dry Roasted Nuts were made in the UK every 90 minutes. The closing date was October 14th 1980 - sod it, I've missed that - and you needed to send 3 KP wrappers as an entrance fee. The winner got that lunch while 25 runners-up would get a Kenny Dalglish 1981 Annual. Somehow I just can't see any of the present Premier League superstars doing anything similar!
* * * * *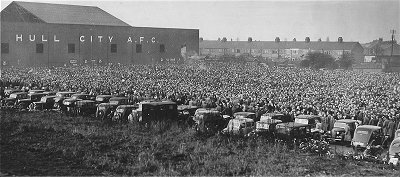 The 1948/49 season was an amazing one for attendances in English football. Hull City, for example, saw 19 of their 21 home League matches attract 30,000+ crowds - not bad for a Third Division side! Their top League attendance was on Christmas morning 1948 when 49,655 were present at Boothferry Park for their top-of-the-table clash with Rotherham United. That was the record-ever Division 3 (North) attendance with Hull winning the match 3-2 which helped them pip their Yorkshire rivals to the title and with it the one promotion place from the division that season. But that 49,655 wasn't the best at Boothferry Park that season - 55,019 were present at their FA Cup quarter-final tie with Manchester United - an all-time record Hull home crowd. The amazing interest in that cup-tie is shown in the picture which, amazingly, is just the fans queuing for tickets for the match on the Sunday before the fixture. Around 30,000 tickets were up for grabs but some 75,000 turned up to try to buy them. Around 2,000 camped out overnight to be at the front of the queue with dozens ending up needing medical treatment due to feinting and crush injuries.

Sadly it proved to be a disappointing game with Hull, led by player/manager Raich Carter, losing by the only goal of the match scored by Stan Pearson.
* * * * *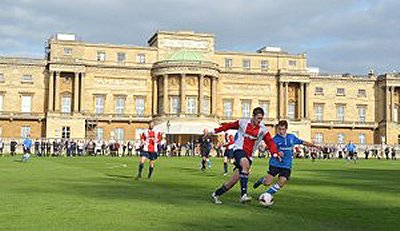 October 7th 2013 saw one of the more unusual non-league fixtures being played. Not so much the match - Polytechnic v Civil Service in the Southern Amateur League - but the venue - Buckingham Palace! The first football match ever played at Buck House was arranged by the then Duke of Cambridge - Prince William - who as President of the Football Association wanted to stage the match in his back garden as part of the FA's 150th anniversary celebrations. At the half time break Palace footmen brought the players their oranges and water on silver salvers to add to the unique occasion - now you never see that at the Den on a Saturday afternoon!
Polytechnic beat the Civil Service 2-1. Rumour had it that Her Maj, bless her, supported the Civil Service - fair enough, after all it was her Civil Service - and showed her disappointment at their defeat in the traditional way -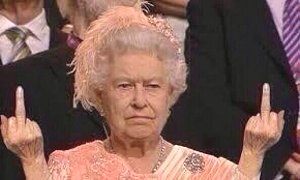 * * * * *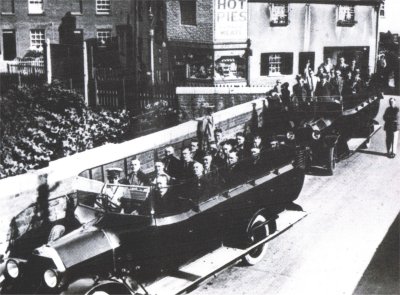 Well, if you think current footballers are well looked after compared with the past then you haven't heard about the perks Exeter City players enjoyed back in the day. Every year the Exeter players were treated by the club directors to a pre-season charabanc trip, usually to Dartmoor. Pictured are the Exeter players in the first bus about to set off for one of those trips, the second bus housing the club directors. You just know a riotous time is about to be enjoyed by all!
* * * * *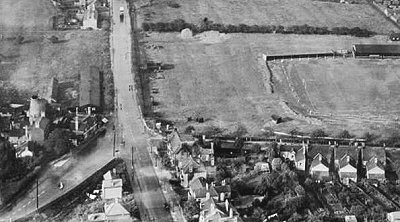 Peterborough United have been talking about moving to a new ground for years now and that is beginning to look more likely with a move to the town embankment on the cards. Their current London Road ground has been their home since their formation in 1934 and before then the ground had been the home of Peterborough's other elite clubs - first Peterborough City and then Peterborough & Fletton United. This is one of my favourite pictures of the ground - from the 1930s - but sadly the person taking the picture didn't have the foresight to realise that one day there would be an internet and that pictures of football grounds would be a popular thing to view on that internet. But although ideally the picture would be further to the right it does show the main structure at the ground - the stand - and to the right of that, I promise, isn't an Old Trafford style structure but more of the same terraces. Posh normally had a home crowd of 2-3000 in their early Midland League days
The road system is the same now as in the photo with London Road and Fletton Avenue being the main roads and Glebe Road being below the ground. The thing I find amazing about the picture though is that it looks like the ground is situated in farmland! OK it was the 1930s and although Peterborough has never been the biggest city in the world it is a city with the London Road ground being one of the closest to a city centre in the current Football League - just a few minutes walk away at the top of the picture. Times have certainly changed!
* * * * *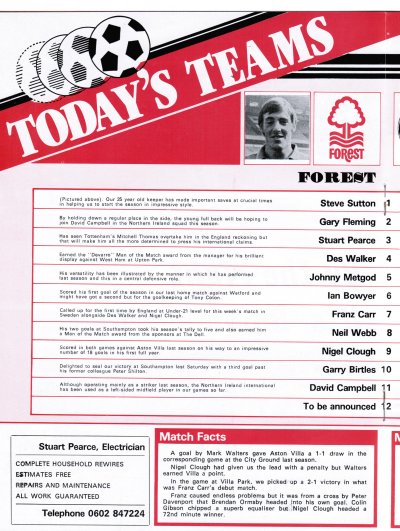 Brian Clough was a brilliant manager but sometimes you wondered about his ability to motivate players. When Nottingham Forest's Stuart Pearce was first called up for the first time to the England squad Cloughie called 'Psycho' into his office and told him 'Well, you aren't good enough in my opinion - now get out.' Pearce went on to play 78 times for England! Pearce had joined Forest at the start of the 1985/86 season and perhaps wasn't as confident a player as he was to become and he asked Clough if he could carry on his other profession - as an electrician - in a part time capacity. Clough was happy with that and even happier when the player repaired an iron and kettle for him. So when Stuart Pearce footballer was listed in the team page of the Nottingham Forest programme for visits of the likes of Manchester United, Liverpool and Arsenal in a small advert at the bottom of the same page Stuart Pearce electrician was offering to rewire your house. Amazing!
* * * * *
I've always found it amazing when animals get on the pitch and interrupt play. On a park pitch - well OK - but at a major stadium with thousands watching - how does it happen? Particularly amazing when the animal that gets onto the pitch is almost the size of a horse! A Great Dane interrupts play at the Nottingham Forest v Leeds United First Division fixture at the City Ground in August 1969 with Barry Lyons, Allan Clarke and 34,290 fans watching on. Mind you Forest fans would probably have wished the pitch invasion had caused an abandonment - Leeds won 4-1.
* * * * *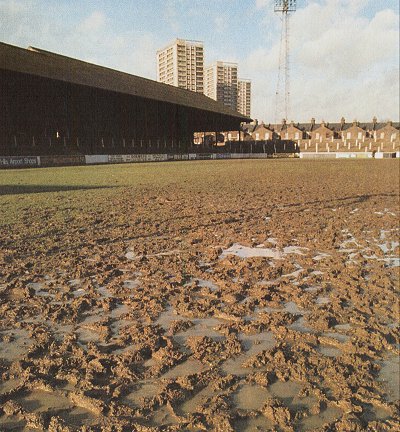 Generally speaking football pitches are at their best at the start of a new season ...but they do change, especially with the rain we have been having! A picture of Leyton Orient's Brisbane Road ground in the 1980s which shows how different things can be!
* * * * *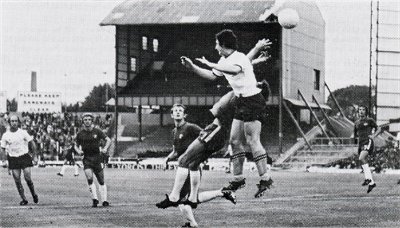 I was at Stamford Bridge the other week to see mighty Peterborough beat Chelsea (OK it was the Checkatrade Trophy!) and have to say that the ground has changed a tad since this picture was taken in August 1974. The massive East Stand had then just opened (you can just see the edge of it on the right hand side) leaving the pictured North Stand as a bit of an unused eye-saw. Half had been demolished and the bit left would soon go the same way. Building work had begun on that North Stand just before the Second World War had started in 1939 and was still unfinished when used for the first time after the war had ended in 1945. Stamford Bridge was the home of both football and greyhound racing at that time and that stand proved to be a popular viewing area for the dogs - the greyhound authorities had stumped up most of the £20,000 cost of the building work. The match pictured was the First Division fixture between Chelsea and Burnley and shows Paul Fletcher challenging Chelsea 'keeper Peter Bonetti. Chelsea took a 3-0 lead but at the final whistle it was 3-3.
* * * * *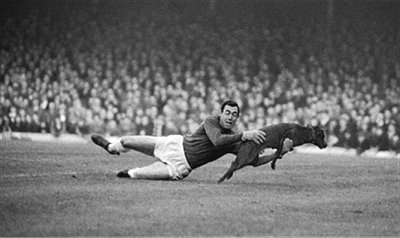 Quite rightly a lot has been said about Gordon Banks in recent days - in my opinion he was the best goalkeeper England has ever had. His save against Pele in 1970 is the one we all rightly remember - amazing - but my favourite photo is when he 'saved' a dog five years earlier. But was a save or a tackle I wonder? The incident took place in the First Division match between Leicester City and Manchester United at Leicester's former home at Filbert Street in November 1965. How on earth do dogs get into grounds? Sadly for Leicester though that proved to be the only bit of success for Banks that Saturday afternoon - United won 5-0!
* * * * *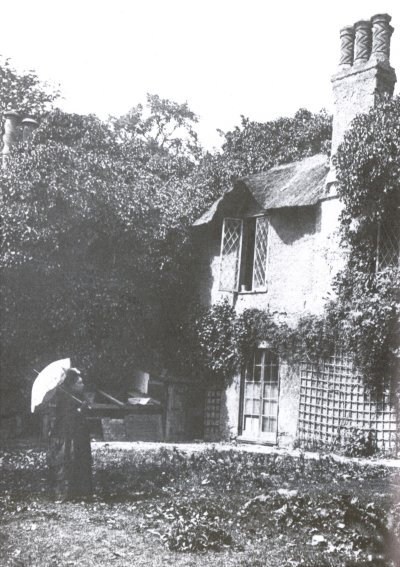 It's hard to believe that Premier League football is now being played on the site of this picture - well at the moment anyway! The picture is of the original Craven Cottage. Built in 1780 this Craven Cottage was destroyed by fire in May 1888. Fulham took over the derelict site in 1894 and spent two years building a new ground with their first match there being on 10th October 1896, a 4-0 Middlesex Senior Cup victory over Minerva. The pictured Craven Cottage was situated near enough in what is now the centre circle of the Craven Cottage stadium. You could almost imagine the person in the picture being a ref!
* * * * *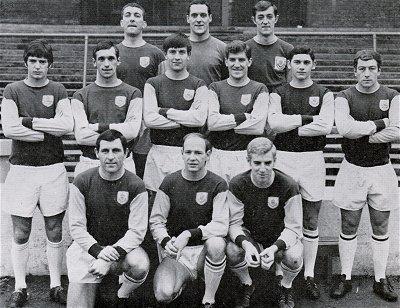 Burnley 1967/68. Burnley finished as League champions in 1959/60 but the time the 1960's came to an end the Turf Moor side had become very much mid-tablers in the top flight. They finished 14th four seasons in a row at the end of the decade. They had a renowned forward line with Andy Lochhead and Willie Irvine topping the club goalscorerers chart in each of the five seasons up to 1967/68. But that season saw the start of a change up front with those two players nearing the end of their careers at Turf Moor. New kid on the block was Frank Casper who signed at the start of the season from Rotherham United. He scored in this first three League matches for Burnley and finished top scorer in 1967/68 and 1968/69...and he later went on to manage Burnley.
(left to right)
Back Row: Brian O'Neil, Harry Thomson, Arthur Bellamy.
Middle Row: Willie Morgan, Frank Casper, Willie Irvine, Leslie Latcham, Ray Tennent, Ralph Coates.

Front Row: John Angus, Andy Lochhead, Colin Waldron.
* * * * *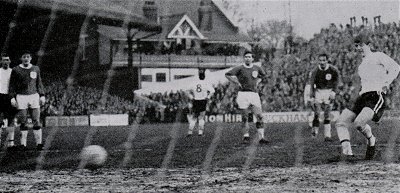 No mistaking the Craven Cottage home of Fulham although the wide open spaces of the Putney End have long been replaced by a stand. The picture shows Allan Clarke converting a controversially-given (aren't they all!) penalty in Fulham's FA Cup 3rd Round match against non-leaguers Macclesfield Town in January1968. Fulham won that one 4-2 in a season of poor results. The following week they lost their First Division fixture at West Ham 7-2 and finished the season in bottom spot with relegation seeing them start of a period of over 30 years outside of the top flight.
* * * * *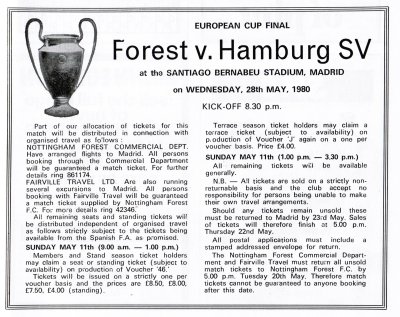 I came across this advert in an old Forest programme - seems hard to believe now. Nottingham Forest selling tickets for their European Cup final against Hamburg - Forest were the European Cup holders in 1980 and retained the trophy in that match in Madrid. Top price tickets were a fortune - £8.50 - while you could stand - in a final - for just £4. You even needed to send a stamped addressed envelope for the return of tickets by post - on-line tickets weren't even being dreamed of then! And in my opinion all that was down to Brian Clough - he should have managed England!
* * * * *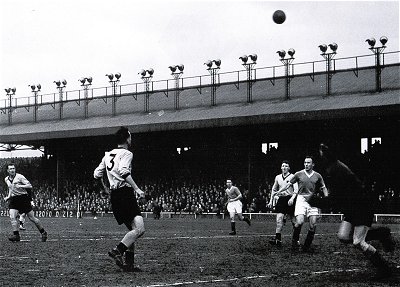 Hull City in action in their Division 3 (North) match against Carlisle United in March 1958. It's a bit before my time - I well remember the floodlights at their former Boothferry Park ground but my memories are a tad later when they had six huge floodlight pylons at least one of which was behind a stand. I'm guessing they changed from one unusual floodlight set-up (pictured) to the unusual array I remember when a stand was rebuilt. When would that have been?
* * * * *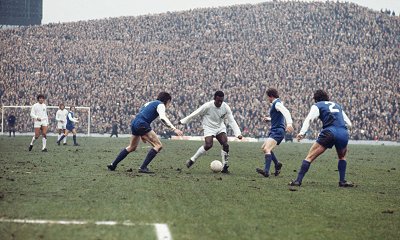 Well this is a sight we will never see in England again - a massed bank of thousands of supporters...watching a friendly would you believe! It was at Hillsborough on February 23rd 1972 when Sheffield Wednesday entertained Santos of Brazil who included in their ranks their star player, Pele. Amazingly the match kicked off at 2.30 on a Wednesday afternoon as a miners strike had resulted in power restrictions which prevented the use of floodlights. Even so the attendance was 36,996 who most Sheffield schools having truancy problems on that Wednesday! Santos - who had also played a friendly at Hillsborough ten years earlier - won 2-0 with Wednesday player Tommy Craig sticking rigidly to Pele in the last few minutes of the match - so that he could get the great man's shirt at the final whistle!
* * * * *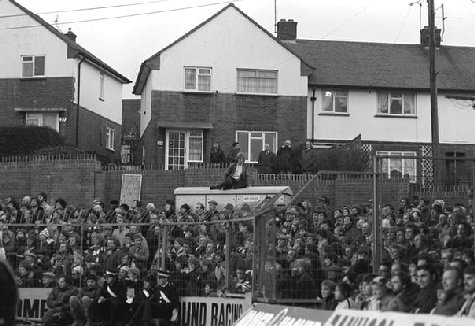 Well, you wouldn't see a picture like that in one of the newly built football grounds would you. Watching a match from your own front garden would be an impossibility in one of those and I'm guessing sitting on top of a hut would break every health and safety rule known to man. The picture is of the Goldstone Ground which was home to Brighton & Hove throughout their League history until it was controversially closed and was sold in 1997. Brighton then had to ground-share with Gillingham and play at the Withdean Stadium in Brighton before finally getting a new home - the Amex Stadium - in 2011. The picture was taken in the 1982/83 season, their final season in their first stint in the top flight. They were in financial trouble and found it hard to attract break-even crowds of 16,500 so over Christmas and New Year they reduced their admission price from the normal £2.50 to £2 for the fixtures against Southampton (21,794), Watford (15,139) and Nottingham Forest (10,402). Or you could have watched it from your garden!
* * * * *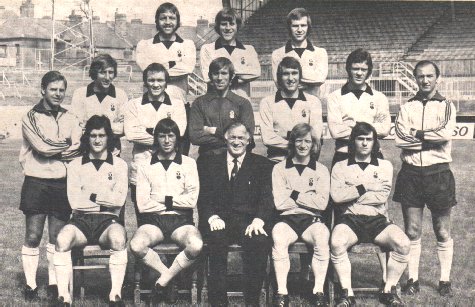 Coventry City 1972/73. After finishing just above a relegation spot in 18th place in 1971/72 Coventry brought a new management team to Highfield Road to help change their fortunes. Joe Mercer was appointed general manager and Gordon Milne became team manager - Mercer had moved from Manchester City when he realised his days were numbered there after losing his office and parking space at Maine Road! The new management team planned to move away from the defensive emphasis of previous manager Noel Cantwell but Coventry scored fewer goals and finished the season just above a relegation spot - in 19th place!
(left to right)
Back Row: Ernie Hunt, Ernie Machin, Bobby Graham.
Middle Row: Gordon Milne (Team Manager), Chris Cattlin, Roy Barry, Bill Glazier,
Wilf Smith, Jeff Blockley, Tommy Casey (coach).

Front Row: Dennis Mortimer, Mick Coop, Joe Mercer (General Manager), Willie Carr, Quintin Young.
* * * * *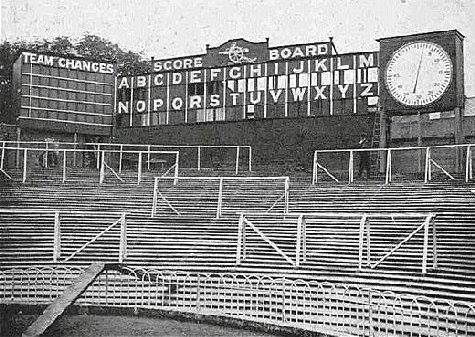 I was at a live televised match the other day and I was surprised to see somebody sitting near me watching the match on his device rather than what was going on in front of him - and it wasn't as live as I thought it would be! But I must admit the technology employed in football nowadays is light years ahead of what was around when I was a tad younger with VAR being the latest addition. Going right back to the 1930s though Arsenal were way ahead of the others as far as innovation was concerned with their manager Herbert Chapman being considered one of the great forward-thinkers in the game. Their 'technology corner' of the period at Highbury is pictured. The scoreboard idea will be familiar to many with the half-time scores - and sometimes the full-time ones - being given although you did need to buy a programme to get the code for the matches being played. I've seen team changes on an electronic scoreboard but I'm guessing on Arsenal's manual one that it was perhaps using players numbers from the programme again. Can anyone help with that one? Its the clock that has become iconic at Arsenal. It's the original clock pictured - that was a 45 minute count-down clock but that had to be scraped as FA considered that it undermined the match officials. A standard clock replaced it and the rest, as they say, is what history is made of!
* * * * *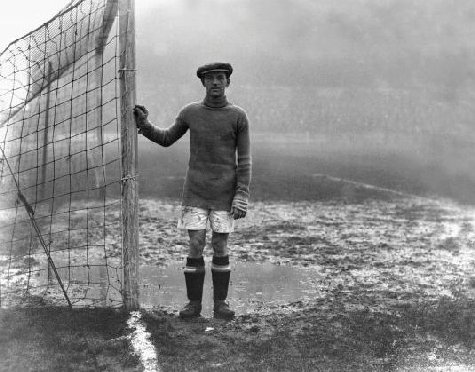 You just know that is a goalkeeper who wanted to be at home in a hot bath! Look at the state of that pitch and rest assured that the rain that caused that mess would be descending on fans standing on the uncovered terraces as well as the players. And there would have been quite a few of those fans as the picture is of Billy Mercer in 1925 when his team Huddersfield Town dominated the English Football scene. Billy Mercer played 48 times for Huddersfield when they became the first club to win a hat-trick of League championships in 1923/24, 1924/25 and 1925/26. Previously he has spent 10 years at Hull City where he made 193 League outings.
* * * * *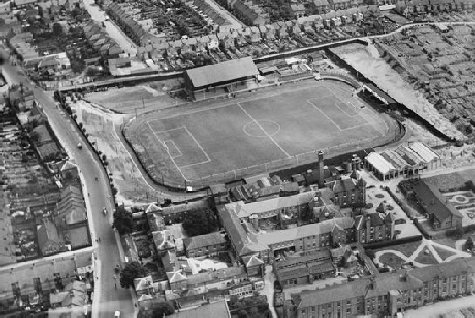 Following on from the previous picture this was the Vicarage Road Recreation Ground soon after it had been transformed into Watford FCs Vicarage Road Ground. The picture has been taken from a similar position although this time the famous allotments are in view to the right. Watford played their first match at the ground in 1922 with this picture being taken around 10 years after that. As with most grounds of the era it was very much one for the standing fan with stands - or indeed any covered area - being very absent. Also absent is the penalty 'D' marking on the pitch which wasn't introduced until 1937.
* * * * *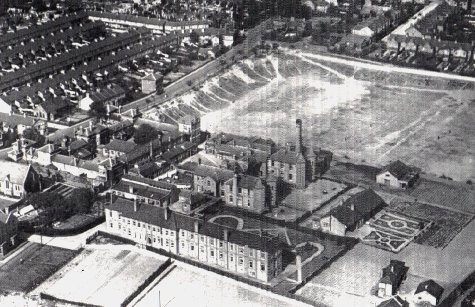 When Watford outgrew their Cassio Road ground they moved to a new home on the site of the Vicarage Road Recreation ground, pictured above. In proved a perfect site for the new ground which was bordered by houses, an old Workhouse on the site of a hospital and a steam laundry housed in a former silk mill. The famous allotments are out of sight on the right hand side of the picture. The slope on the left hand side of the site was well used by kids as a slide - on sledges in the snow and tin trays at other times - and was perfectly suited for the terracing which took its place when the ground was constructed. The Vicarage Road ground was opened in a match against Millwall on 30th August 1922.
* * * * *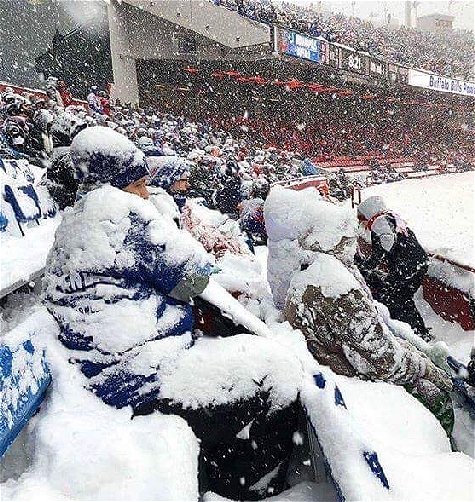 Dedicated - and presumably bloody cold!
* * * * *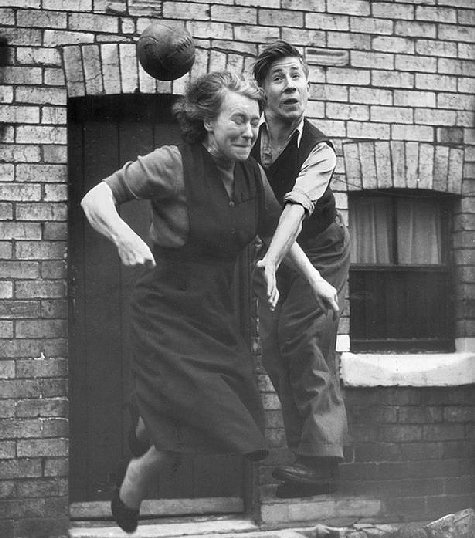 A 15-year-old Bobby Charlton with his mother Cissie outside their Ashington home in 1953. And, bless her, his mum was putting some effort into that header wasn't she with that being a proper leather football! Cissie was in fact a member of a famous footballing family. Uncles Jack, George, Jim and Stan Milburn were all Football League players while cousin Jackie Milburn - 'Wor Jackie' - made his name playing for Newcastle United and England. Bobby was one of four brothers. He and older brother Jack were World Cup winners of course while Gordon had an unsuccessful trial period at Leeds United when Jack was at Elland Road. Gordon Charlton left it late to show his footballing skills - it seems he became a bit of a superstar in his 60's playing walking football in Rotherham.
* * * * *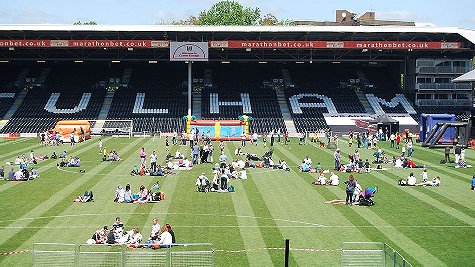 I did the tour of Craven Cottage once and still remember the warning given - don't even think of stepping on the pitch if you want to carry on living (well, something like that anyway!). So I was surprised to see pictures of Fulham's first 'Picnic on the Pitch' which took place at Craven Cottage in May 2015. OK it was after the season had ended and was held to aid season tickets sales but people are walking on the pitch and a tent has been erected on it!! I guess the ground-staff were all the given time off to avoid the event or surely there would have been palpitations all round that day. But a good idea I guess.
* * * * *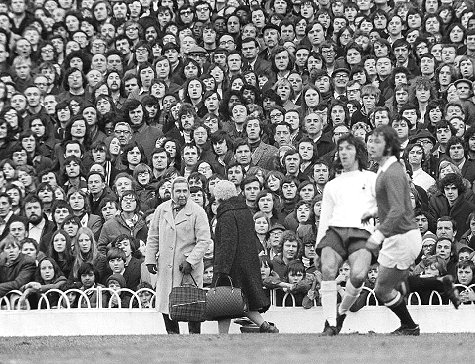 Genuinely one of my favourite football photos. Spurs are playing Manchester United in a First Division match at White Hart Lane in March 1972 but that fact seems almost unimportant. It's the two ladies walking along the touchline who seem completely oblivious to what's going on a few feet away. What on earth are they doing there? I've heard the speculation and even wondered it the picture has been doctored - but do you know why they are in the spotlight?
* * * * *
The story behind the programme....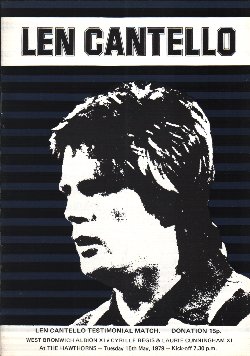 The Len Cantello testimonial match at The Hawthorns on Tuesday 15th May 1979. For those of us who watched the thought-provoking BBC 2 programme presented by Adrian Chiles Whites v Blacks: How Football Changed a Nation you might think that the match-day programme would be dominated by an anti-racism theme and the justification behind the makeup of the opposing teams. Not so. As you might expect with a testimonial the 12-page programme was all about Len Cantello who had started at The Hawthorns as an apprentice in 1967 and by 1979 had made 298 League appearances for the club. Career notes, playing stats and comments from football writers and players made up the normal testimonial offering. No mention of Blacks v Whites although in his notes Len Cantello does touch on the fact that it was obviously a sensitive subject: 'Tonight's main match is one that has been applauded by many people and I do not intend to be drawn into the political arena regarding the finer points. It has, and always has been, nothing more than a football match and I am sure the fans will enjoy every moment.'

The All Blacks won 3-2 and 7,023 were present to see it.
* * * * *
This site isn't complete. Given the rich history of football in this country alone it probably never will be! My intention is to base this site on the Football League clubs and provide information that is comprehensive, interesting and accurate. Already the site consists of over 3200 pages and new pages are being added on a very regular basis so if the info you are after is not listed now it hopefully will be soon.