Leading League goalscorer:
Guiliano Grazioli
(Barnet)
29 goals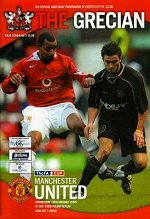 Just to prove that dreams do come true Exeter City, not long out of the Football League and with financial problems, draw Manchester United away in the FA Cup. And in front of over 67.000 fans at Old Trafford they held out for a 0-0 draw before eventually suffering defeat 0-2 in the replay (results).
Despite receiving a ten point penalty for entering administration Northwich Victoria managed to finish above the relegation zone only to suffer a second problem with the rule-book. After entering administration and renaming the club Northwich Victoria 2005 they did not meet FA deadlines for transferring the Conference membership to the 'new' club. As a result they were voluntarily demoted to the Conference North (the alternative would have had forced expulsion, possibly to a lower league still). Forest Green Rovers were reprieved from relegation as a result.
Relegated in the more traditional way were Farnborough Town (to the Conference South) and Leigh RMI (to the Conference North).
Replacing the relegated sides in the Conference for 2005/06 were Conference North champions Southport, Conference South champions Grays Athletic and Altrincham who beat Eastbourne Borough in the North/South play-off decider.