QUIZ QUESTION ANSWER
Question:

In May 2020 in the TV programme
Who Wants To Be A Millionaire?
a contestant took £500,000 rather than risk getting the
£1m question wrong. That jackpot question was a sports question -
now would you have got it right?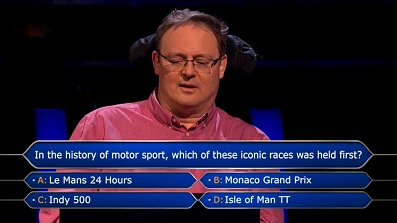 £1,000,000
In the history of motor sport, which of these iconic races was held first?

a) Le Mans 24 hours b) Monaco Grand Priz
c) Indy 500 d) Isle of Man TT
Answer:
d) Isle of Man TT
Retired GP Andrew Townsley was the contestant who took home £500,000 rather than risk losing it on the above question.
He was asked one other sports question on his way to becoming a half millionaire - that one was for the £8,000 prize.
How would you have got on with that one?

£8,000
British athlete Katarina Johnson-Thompson became a
world champion in which athletics event in 2019?

a) Heptathlon b) Marathon
c) 100 metres d) 400 metres hurdles
(the answer is at the bottom of this page)
For hundreds of more questions click on Quiz
£8,000 quiz answer - a) Heptathlon