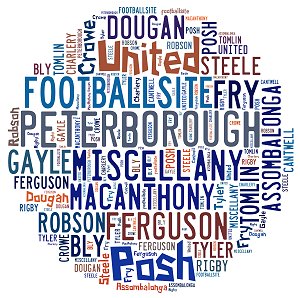 PETERBOROUGH UNITED
MISCELLANY
Formation........
After Southern League Peterborough & Fletton United disbanded during the 1932/3 season due to financial problems the city was left without a senior side within its boundaries. That had to change and on Thursday May 17th 1934 a crowded meeting at the Fitzwilliam Rooms at the Angel Hotel decided to form a new club - Peterborough United. Officers were elected and it was decided to apply to join the Midland League. On June 9th 1934 they were duly elected to the Midland League with Grantham lending money to the new club to cover the entry fee, subscription and deposit. On July 31st 1934 the first shareholders meeting was held, directors were elected and then followed the signing of new players. And so started Peterborough United!
*********
First competitive match........
The first competitive fixture played by Posh was on Saturday 1st September 1934 when Gainsborough Trinity visited London Road for a Midland League fixture. A crowd of 4035 saw Posh win 4-0 with goals from Hargreaves, Rigby, Thompson and Roberts. The Posh team -
Jackson, Harris, Purcell, Staniland, Doyle, Hargreaves, Rigby, Cowen, Thompson, Camidge, Roberts.
*********
Election to the Football League........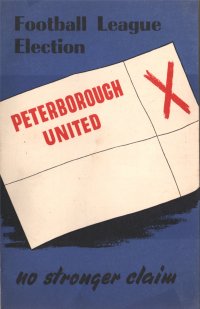 Posh made their first of what was to prove an annual unsuccessful attempt to join the Football League in 1947. The voting system was a closed-shop in favour of the League clubs seeking re-election and it wasn't until 1950 that Posh gained the first vote in their favour. But things started to change and in 1956 the first of five Midland League titles they won on the trot plus many giantkilling acts in the FA Cup saw them become the best supported non-league club seeking election in the southern part of the vote. In 1957 Posh gained 7 votes but the worst supported League side, Swindon Town, had 42. In 1958 Posh had 15 votes compared with Crewe's 35 and in 1959 it was 26 for Posh with Aldershot having 31. But on May 28th 1960 Posh finally won a place in the Football League. The fours clubs seeking re-election were Oldham (who won 39 votes), Hartlepools (34), Southport (29) and Gateshead (18) - Posh gained 35 votes so they were in and Gateshead were out.
*********

First Football League match........
The first Football League match finally arrived on Saturday 20th August 1960.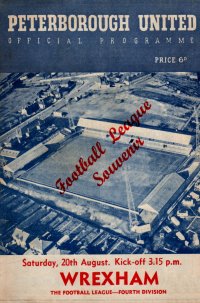 A crowd of 17,294 were at London Road for the Fourth Division fixture against Wrexham. Denis Emery, Peter McNamee and Terry Bly scored the goals in a 3-0 victory. It was the start of a great adventure - Posh finished as Fourth Division champions, scored a record 134 League goals (which still stands) with Terry Bly scoring 52 of them, a post-war record. The attendances were 10,000 plus for every home match, the best being 22,959 against Northampton. They reached the 4th Round of the FA Cup before losing 2-1 at Villa Park in front of a crowd of 64,531. So it was really downhill from then on!
The Posh team against Wrexham -

Walls, Stafford, Walker, Rayner, Rigby, Norris, Hails, Emery, Bly, Smith, McNamee.
*********

The Record Attendances........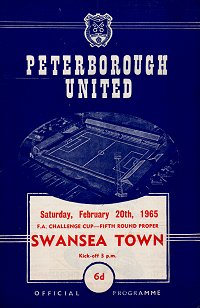 The Highest - Posh have had their home at London Road since day one and it wasn't unusual to have 10,000 plus crowds at the ground for Midland League games. In the early League days crowds of over 20,000 were not unusual but 30,000 was topped for the first time with the visit of Arsenal in the FA Cup on Saturday January 30th 1965 when 30,056 witnessed a memorable victory. Three weeks later, on Saturday February 20th, when Swansea Town visited London Road for the 5th Round tie 30,096 squeezed in for what was - and probably for ever will be - the record crowd at London Road. Where did they all fit? At the time you could stand on all four sides of the ground. London Road and Moy's End were all-standing as was the Glebe Road side. In front of the main stand was a standing enclosure (now replaced by seating) where stood those who were better off than the supporters in the general terracing but not as affluent as those who could afford a seat. But I was there and it was a crush which would never be repeated with the modern health and safety culture. Posh drew that match but won the replay to earn a quarter final tie at Chelsea. Match details for the Swansea match at London Road -
Saturday February 20th 1965. FA Cup 5th Round. Attendance 30,096
Posh 0 Swansea Town 0
Team - Duff, Cooper, Birks, Crowe, Rankmore, Orr, Barnes, Conmy, Dougan, Deakin, McNamee.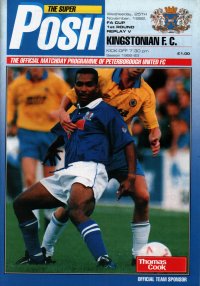 The Lowest - Well that's an easy one. It was zero - well no paying spectators only club officials, the press and presumably a few more ball-boys than normal to patrol the otherwise empty ground. The reason? Posh were drawn against non-league Kingstonian in the First Round of the FA Cup in the 1992/93 season. Posh drew 1-1 at Kingstonian with London Road staging the replay on Wednesday 25th November 1992. All was going well with Posh 3-0 up in the 55th minute when Kingstonian 'keeper Adrian Blake was injured when hit on the head by a 50p coin thrown from the crowd. He had to be substituted and with midfielder Andy Parr taking over between the posts Posh took full advantage with Tony Philliskirk scoring five in the 9-1 victory - both club records. However those records only lasted a few days with the FA declaring the match void and ordering a replay behind closed doors. That match was staged on Friday December 4th 1992 when Posh ran out more modest 1-0 winners.
Friday December 4th 1992. FA Cup 1st Round replay. Attendance 0
Posh 1 (Worrell Sterling) Kingstonian 0
Team - Bennett, Bradshaw, Robinson, Halsall, Howarth (Luke), Welsh, Sterling, Cooper, Adcock, Philliskirk, Ebdon.
*********

The demotion........
Well, if the first League season was arguably the high point in Posh's League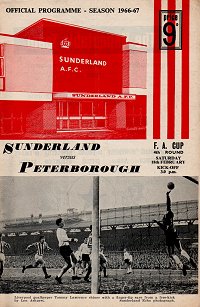 history then what was definitely the low point soon followed. In November 1967 it was announced that the FA and Football League were to investigate charges of financial irregularities at London Road. Two charges related to problems with vouchers detailing payments made to players but a further two charges were the more serious. In February 1967 Posh offered what was an illegal bonus of £100 per player to beat Sunderland in an FA Cup Fourth Round tie. The rules limited the bonus to £6 a man....and what a waste of effort that was, Sunderland won 7-1. Illegal signing-on bonuses had also been made to players from funds made available by the Supporters' Club.
To the world at large it was a case of the new boys not getting to grips with the rules, of ignorance and stupidity rather than a calculated attempt at rule-breaking. In fact the club had been so unaware of what they were doing was wrong that some transgressions had been openly reported in the minutes of meetings and in the Company Statement of Accounts. But they were found guilty and were fined for the voucher offences. As far as the punishment for the other two offences it proved to be the most draconian since Leeds City were expelled from the Football League in 1929 - Posh were to be demoted to the Fourth Division at the end of the season. And that announcement was made in November when hopes of a promotion were still high - a wasted season if there was ever one.
What made the demotion even harder to take was the punishment handed down to two clubs at about the same time whose charges were perhaps a tad more serious. Later in the same season Port Vale were expelled from the Football League. However they were already members of the bottom division, they were expelled at the end of the season and were - as everybody expected - voted straight back into the League. But then came the turn of a biggish club - Manchester United. What was the punishment they received in September 1969 - demotion, expulsion? Don't be silly - they were just fined!
*********
The Managers........
Jock Porter 1934 -1936
Fred Taylor 1936 - 1937
Vic Poulter 1937 - 1938
Sam Haden 1938 - 1948
Jack Blood 1948 - 1950
Bob Gurney 1950 - 1952
Jack Fairbrother 1952 - 1954
George Swindin 1954 - 1958
Jimmy Hagan August 1958 - October 1962
Jack Fairbrother December 1962 - February 1964
Gordon Clark April 1964 - September 1967
Norman Rigby September 1967 - January 1969
Jim Iley January 1969 - September 1972
Noel Cantwell October 1972 - May 1977
John Barnwell May 1977 - November 1978
Billy Hails November 1978 - February 1979
Peter Morris February 1979 - May 1982
Martin Wilkinson June 1982 - February 1983
John Wile May 1983 - November 1986
Noel Cantwell November 1986 - July 1988
Mick Jones July 1988 - August 1989
Mark Lawrenson September 1989 - November 1990
David Booth November 1990 - January 1991
Chris Turner January 1991 - December 1992
Lil Fuccillo December 1992 - December 1993
Chris Turner December 1993 - July 1994
John Still August 1994 - October 1995
Mick Halsall October 1995 - July 1996
Barry Fry July 1996 - May 2005
Mark Wright May 2005 - January 2006
Steve Bleasdale January 2006 - April 2006
Keith Alexander May 2006 - January 2007
Darren Ferguson January 2007 - November 2009
Mark Cooper November 2009 - February 2010
Jim Gannon February 2010 - April 2010
Gary Johnson April 2010 - January 2011
Darren Ferguson January 2011 - February 2015
Dave Robertson February 2015 - September 2015
Graham Westley September 2015 - April 2016
Grant McCann May 2016 - February 2018
Steve Evans February 2018 - January 2019
Darren Ferguson January 2019 -
*********
"I've told the players we need to win so that I can have the cash to buy some new ones."

Perhaps not the greatest of motivational speeches by Posh manager Chris Turner before their Rumbelows League Cup Quarter Final against Middlesbrough in the 1991/92 season. But it almost worked. After a 0-0 draw at London Road on January 8th 1992 Posh lost by the only goal in the weather-delayed replay at Ayresome Park a month later. With the draw for the two-legged semis having been Manchester United v Posh or Middlesbrough a win would certainly have given them a boost in the finance department. But as it was, they just had to make do with what they had!
*********
To us he was plain Noel but his full name was Noel Euchuria Cornelius Cantwell.
*********
A 'fly-on-the-wall' documentary at a football club - it had to happen one day I suppose. Sadly it happened at London Road and it happened to Steve Bleasdale. The idea was that Posh would receive a £100,000 fee and Ron Atkinson would give the wisdom of his experience to rookie manager Bleasdale. The problem was it was going to be shown on Sky TV - as Big Ron Manager. Warning signs could have been picked up from Swindon Town who had originally agreed to host the show but ended the agreement after a month of filming because of the intrusive nature of the cameras. Of course it was going to be intrusive and controversial otherwise no-one would watch it - but did I mention the £100,000 fee? Controversial it was with the cameras arriving in January 2006 and recording the brawling, arguing, chaos and confusion before the manager finally called it a day and resigned just a hour before a League match against Macclesfield at London Road on April 22nd - a resignation captured on camera of course. Posh were made to look ridiculous, a chance of a play-off place was blown and Bleasdale had his say in the Daily Mirror under the headline 'Big Ron Put Me On The Dole'. But then every cloud has a silver lining. An interested viewer was Darragh MacAnthony who later in 2006 turned his interest into a takeover of the club, the Irishman replacing Barry Fry as chairman.
*********
"It's a bit like your wife saying that she's interested in another man and wants to go on a date. The the date doesn't go to plan and she wants to come home again. Well, that wouldn't happen in my house simple as that."

Peterborough United chairman Darragh MacAnthony on why he refused Reading permission to interview his wife, sorry manager (Darren Ferguson), for the vacant Reading managerial position in May 2009. In November 2009 there was a divorce with Ferguson moving to Preston. However, they remarried with Darren Ferguson returning to London Road in January 2011.
*********
Some of the Players........
Derek Dougan was one of the finest signings ever made by Posh.
When he signed for the club in the summer of 1963 what were his first impressions of the City of Peterborough? His thoughts, taken from his autobiography 'The Sash He Never Wore' -
'At first sight Peterborough reminded me a bit of Portsmouth, although not as large. The population is about seventy or eighty thousand. There is a magnificent cathedral in the city which, like Portsmouth, is a very clean place. It was a busy place with most of the jobs concentrated in three companies, Perkins' diesel engine factory, the British Sugar Corporation, and the London Brick Company. This last employs a good deal of Italian labour and it is amazing how cosmopolitan Peterborough seemed when I lived there. It was also close to an American base which was at Huntingdon and I spent many an enjoyable evening with my Peterborough colleagues in the company of the American forces.'
*********

'I am absolutely over the moon and my Gran will be the proudest Gran in the world'
So said Watford-born Craig Mackail-Smith when selected for the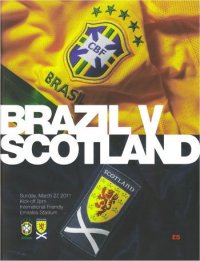 Scotland squad for the first time - he was eligible for Scotland because his Granny, Margaret, was born in Edinburgh. So on March 27th 2011, two days after playing for Posh at Bristol Rovers, Craig made his senior international debut for Scotland as an 87th minute substitute. And the opposition? No, we are not talking about San Marino away but mighty Brazil at the South Americans' adopted home at Arsenal's Emirates Stadium. A proud Gran was there to witness the appearance which was followed by an exchange of shirts with World Cup and Champions League winner Lucio. So how does any Posh player follow that experience. Well, with a League 2 match against Bournemouth at London Road, what else!
*********
And Some of the Matches........
It's interesting looking back at some of the old Posh friendly programmes from the non-league days and read the pen-pictures of the visiting players. What became of those players? When West Ham United visited London Road on Monday February 22nd 1960 for only the third floodlit match played at the ground their team included John Lyall, John Bond, Ken Brown, Phil Woosnam and

a youngster whose pen-picture gave the impression of great promise. But did he make the grade?
Bobby Moore. Local Boy, played 18 times for England Youth. Only 19 years old, already with first team experience. A bright future is forecast for Bobby.
A visit from the Army representative side would hardly rate a mention nowadays but back on Thursday 3rd October 1957 things were a tad different. National Service meant that everyone, top footballers included, had to serve in the armed forces and as a result the Army team of the time was good enough to do what do what no club side came close to doing - they won 7-1 at London Road. Included in the Army squad was one L/Cpl Charlton R - just 5 months later Bobby Charlton was at Munich and the rest of his story we all know -
L/Cpl Charlton, R., R.A.O.C. (Manchester United). The only 'Busby Babe' in the present Army team, Edwards and Foulkes having completed their Service period. Was a member of the winning Manchester United combination last season, when they reached the FA Cup Final, the European Cup quarter-finals, and won the First Division Championship. A Youth International and a strong candidate for England Under 23 honours.
More than a few famous names also graced the London Road pitch including one in the Blackpool team who visited the ground for a friendly on Monday 21st Match 1960 -
Stanley Matthews - The most famous footballer in the world, he is known everywhere for his superb footwork, absolute fairness and modesty on and off the field of play. He won every honour in the game except a League championship medal. After a great career with Stoke City, whom he joined over 20 years ago as an office boy, he signed for Blackpool in 1947.
A Benefit Match for Norman Rigby, George Hair, George Stafford and Ken Moody against an All Stars XI on Monday April 9th 1956 saw included in the visitors squad Sam Bartram, Joe Mercer, Raich Carter, Stanley Matthews and one player who was obviously starting the transition from playing to managing. Did he make a success of the future?
Bill Shankly. The ex-Preston and Scotland wing-half, is now coach to Huddersfield Town, where his former colleague Andy Beattie is manager. Bill recently visited London Road in charge of the Huddersfield Town team.
*********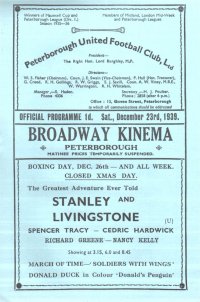 As in 1957 when Posh played the Army, friendlies against forces sides during the Second World War often saw opposition teams field some decent players. But that wasn't the case when Peterborough entertained a Royal Navy Depot side at London Road on Saturday 23rd December 1939, less than four months after war was declared. The visitors were 'all-at-sea' with Posh recording a club record 15-2 victory. The Navy side came from shore-based HMS Royal Arthur which was a newly set up reception and training centre for recruits housed at the naval stronghold of....Skegness! In fact the camp they used was Butlins so perhaps the navy side included one or two redcoats in their line-up!

*********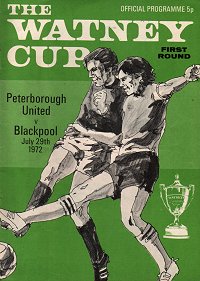 The first sponsored competition open to Football League clubs was the Watney Cup which made its debut in the pre-season of 1970. The top two goalscoring sides from each division (who were not promoted or qualified for Europe) took part in the competition held before the start of the following League season and free-scoring Posh qualified for three of the four tournaments. That in itself was a record but they could have made it a complete set had they scored just one more League goal in the 1970/71 season. Sadly, though, Posh only won one match in the competition and wasn't a straightforward victory. Against Second Division Blackpool at London Road on Saturday 29th July 1972 the score was 0-0 at end end of 90 minutes. No extra time just straight to penalties which the Watney Cup introduced to the British game in 1970. Posh won their first-ever penalty shoot out 7-6 but Blackpool lodged a complaint claiming that a substituted player - Don Heath - had taken a penalty for Posh. The appeal was dismissed as the rules allowed the 11 players on the field at the end of 90 minutes plus two nominated substitutes to take penalties. The Watney Cup - full results etc.

*********

Posh for the World Cup? We have a good record against foreign countries. Ok, we are not talking about Spain or Brazil...or even San Marino - but it's still a good record. On Saturday 8th September 1956 Posh took a break from playing the likes of Goole and Bradford City Reserves in the Midland League to take on more exotic opponents - Uganda. No contest, the East Africans were beaten 7-2 with six different Posh players scoring the goals. Two years later - on Saturday 8th November 1958 - South Africa were the visitors to London Road and they didn't do much better. Posh won 7-4. On Saturday 3rd October 1959 the Caribbean Touring Team took in London Road on their tour of England - no the other matches weren't at Highbury or Old Trafford but included Wisbech, Spalding and Ely. Posh were 4-1 victors. And with a record like that we have been invited abroad - the nation of Jersey taking on Posh in February 2001.
*********
An amazing series of results was recorded by Posh reserves in the Football Combination in four consecutive matches at the start of the 1961/62 season. On Saturday September 14th they beat Nottingham Forest Reserves 6-0 at London Road, on Saturday 21st they lost 0-6 at Bristol Rovers Reserves, on Saturday 28th Colchester Reserves were beaten 6-2 at London Road and on Saturday October 4th Norwich City were beaten 6-0 away
*********

It's not often that a club plays competitive matches against the first team and reserves of another club in consecutive weeks buts that what happened when Posh were a Midland League side in 1956/57. Posh were drawn against Lincoln City in the Third Round of the FA Cup - Lincoln then being in the old Second Division. On Saturday January 5th 1957 it was first team against first team and the clubs drew 2-2 at London Road but Posh won 5-4 in the replay on the following Wednesday, five of those goals coming in the 30 minutes extra time that was needed. On Saturday January 12th it was first team against reserves with Lincoln City Reserves visiting London Road for a Midland League encounter, Posh winning that one 6-1. By modern standards the attendances were amazing. The FA Cup match at London Road attracted over 22,000 which set a new ground attendance record and the replay at Sincil Bank was watched by 18,216 - not bad for a match that kicked-off at 2 o'clock on a Wednesday afternoon with Lincoln not installing floodlights until 1962. Even the match against Lincoln City Reserves was very well attended, the crowd being 9,707.
*********

Odd & Ends.......
Back in 1996 Barry Fry had a vision, bless him. By 2006 Posh would be at a new ground hosting Manchester United in a Premier League match in front of a 20,000 capacity crowd. Wouldn't I love to be able to dream like that! In reality nothing much has changed - a couple of coats of new paint perhaps. To be fair re-location to a new ground has cropped up regularly over the years but while new grounds have spring up throughout the country for clubs of all standards nothing has happened in Peterborough. Back to Barry's vision, there was speculation where Posh could move to - the Baker Perkins site in Westfield Road, the Perkins sports field in Newark Road, British Sugar in Oundle Road, the Embankment at Potters Way. Others had the cash as well as the vision the those sites are now filled with houses, flats and a prison!

*********
Footballers and sporty cars seem to go together naturally. So when Posh won the Fourth Division title in style in 1960/61 they were in demand to advertise sporty cars ..... well Austins anyway! Ellis Stafford, Terry Bly, Norman Rigby and Billy Hails were signed up by Marshalls, then in Bridge Street, to sell their prestige models! I've got a feeling the FFL 53 one was my first car. I paid something like £25 for it - what the number plate would be worth now!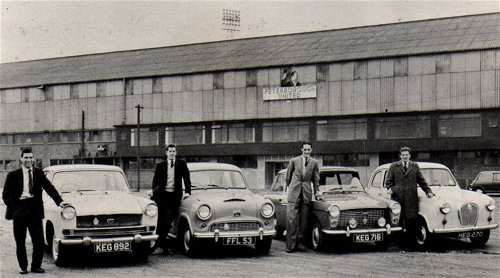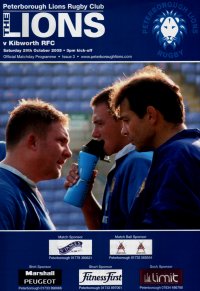 *********
Most football grounds seem to have hosted rugby matches in recent years and Posh is no exception with the Peterborough Lions Rugby Union Club having made a temporary home at London Road. Known as Westwood Lions before their move to London Road they played their first match at the ground on Saturday 1st October 2005 when they beat Oundle 36-8. Over the next 18 months the Lions regularly played at London Road, usually attracting 500-700 spectators, before problems with the playing surface saw the groundsharing agreement come to an end in February 2007.
*********
The first Posh player to be sent off in the Football League? It happened on the first day of the 1969/70 season - Saturday August 9th 1969 - amazingly nine years after first playing in the League. Embarrassingly the person sent off in the match at Port Vale was player-manager Jim Iley for kicking a Vale player in an off-the-ball incident. Things changed. Fast forward to Saturday March 2nd 1985 when Port Vale were the opponents again. Ray Hankin was sent off in the 0-0 draw at London Road, the fifth time he had been sent off in his 18 months as a Posh player. Posh manager John Wile sacked him.
*********
When Posh drew 0-0 with Ipswich in the Championship on March 9th 2013 it ended a sequence of 171 League and cup matches without a goalless draw, dating back to Tuesday December 8th 2009 in a match at Ipswich. The previous 0-0 draw at London Road was a fair bit further back than even that - January 20th 2009 against Milton Keynes Dons. Details of the 171 matches.
*********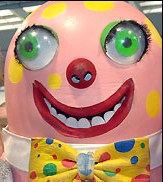 Sadly Posh have not been a stranger to scandal - the demotion, the Kingstonian cup tie. But in December 1993 the worst of them all hit the Posh....the Mr Blobby incident. On Sunday December 19th 1993 Posh entertained Leicester City in a First Division match which was to be shown life on TV. For some inexplicable reason the television company brought Mr Blobby along with them. Better known as a sidekick to Noel Edmonds in TV's Noel's House Party rather than a football hooligan he disgraced himself by wrestling referee Brian Coddington to the ground just before kick off. Now any self-respecting ref is born to take the verbal abuse from the likes of Ray Hankin without a second thought but to be embarrassed by a pink TV character with yellow spots did not go down well with the official. He reported the incident saying that he could have been seriously injured. Posh got away with that one - after all Mr Blobby was about as ineffective as some Posh players but he was never one of them!
*********
Well, if things get dire at London Road just remember times have been worse. Back in 1940 the following announcement was printed in the programmes for war-time Midland League matches -

*********
A
Posh programme in September 1956 included the following notice -
After recent matches at London Road, cigarette ends have been found that have not been extinguished before being thrown away, we refer particularly to the main stand and would ask you in the Club's interests, and your own, to make sure that no match or cigarette end in burning when discarded.
Perhaps football as a whole should have learned the lessons of that particular problem at the time - that didn't happen and nearly 30 years later occurred the Bradford City fire disaster.