Leading League goalscorer:

Matt Taylor

(Bristol Rovers)
27 goals
Northampton Town
dominated in League 2. A 24-match unbeaten League run from December 19th saw them finish on 99 points, a mahoosive 13 points ahead of the runners-up - results.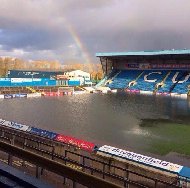 Severe floods at the end of 2015 saw Carlisle United's Brunton Park ground closed for a couple of months forcing three Carlisle home matches to be played on borrowed grounds - more.
League sponsors Sky Bet paid for the 169 hardy Cumbrians who made the long journey to Devon for a Tuesday night match in August against Plymouth.. The 780-odd mile round trip is the longest in the Football League. It again proved a fruitless trip for Carlisle - they lost 4-1 that night having taken just one point in their previous 11 visits to Home Park.
Top home League attendances in League 2 were at Fratton Park with an average 16,391 watch Portsmouth's matches - a little further along the south coast Bournemouth averaged 11,189 when enjoying a decent Premier League season!

Impressive home averages were also recorded at Plymouth (8798), Luton (8226) and Bristol Rovers (8096). What are these clubs doing in League 2?