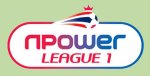 Leading League goalscorer:
Paddy Madden
(Yeovil Town)
23 goals
(includes 1 goal for Carlisle)
In one of the most dramatic last seconds of a season Doncaster win promotion and take the title when all looked lost...
It's never over...


It is possible to peek too early in a season. In their first match of the competitive season Scunthorpe scored 5 goals at Championship Derby in a League Cup tie. Although they also conceded 5 they won 7-6 on penalties. A good omen for the season? Sadly no. It was a month before they won another match and two months before they scored more than 1 goal in a match again. They were relegated.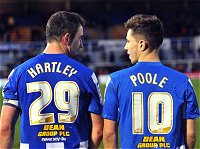 In February 2013 the names of two players who scored the goals in a match for Hartlepool hit the headlines!
Tuesday November 20th 2012 saw a full programme of 12 League 1 matches - and not one of them ended in a home victory (7 aways, 5 draws).