Leading League goalscorer:
Cristiano Ronaldo
(Manchester United)
31 goals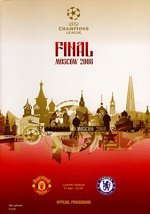 In a memorable Champions League final in Moscow (the first all-English final in the competition) Manchester United beat Chelsea 6-5 on penalties.
The Premier League title and two of the three relegation places were not decided until the last day of the season. Manchester United's Ryan Giggs scored a goal, equalled Bobby Charlton's appearance record for the club (he beat it in Moscow) and won his 10th title medal in their last match victory over Wigan which saw them pip Chelsea for the title.
At the bottom Fulham, who had previously gone 33 away League matches without a win, won their last three of the season to retain their place in the top flight. Rock-bottom Derby equalled a record set by Loughborough in 1899/1900 - just one League win all season.