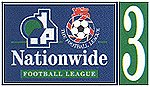 Leading League goalscorer:
Gary Jones
(Notts County)
28 goals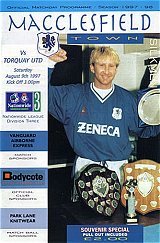 Macclesfield Town played their first match in the Football League, defeating Torquay United 2-1. Later in the season, against Leyton Orient in February, Macclesfield keeper Ryan Price had a memorable few hours. He rushed to the match after the birth of his first child, kept a clean sheet and won the 'Man of the Match' award. The Silkmen were promoted at the end of their first season.
At the other end of the table Doncaster Rovers had a stinker winning just 4 League matches when finishing a distant bottom and being relegated to the Conference. But they were to prove that relegation isn't the end of the world. Eleven seasons later with a brand new ground they were not only back in the Football League but were just a division lower than the Premier League.