Leading League goalscorer:
Malcolm Macdonald
(Newcastle United)
21 goals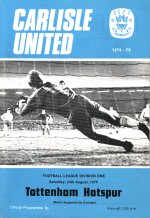 Carlisle played their one season in the top flight - and topped the table for a short while. Results.
Brian Clough lasted just 44 days in charge of Leeds United before being sacked. He then joined unfashionable Nottingham Forest in January 1975 and turned them into the top side in Europe.
A season ticket for the best seats at Chelsea - just £62.50!
(Those were the days....)