Leading League goalscorer:
Duncan McKenzie (Nottingham Forest)
26 goals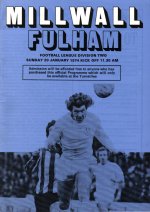 The first Football League match to be played on a Sunday kicked off at 11.30am on Sunday 20th January 1974 when Millwall played Fulham at The Den. Millwall's Brian Clark became the first player to score a League goal on a Sunday, the only goal of the match. The Sunday experiment.
Other than that Millwall had an average sort of a season - Played 42, won 14, drawn 14, lost 14, goals for 51, against 51, points 42.
1
Middlesbrough
42
27
11
4
77
30
65