Leading League goalscorer:
Roger Hunt (Liverpool)
30 goals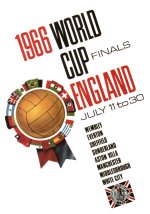 On July 30th 1966 England won the World Cup, Geoff Hurst scoring a hat-trick in the 4-2 victory over West Germany at Wembley.
Northampton Town became the first club to rise from the Fourth Division to the First. They lasted just one season in the top flight and their decline was just as rapid. Six seasons later they were applying for re-election to the Football League.
On December 4th 1965 Frank Saul became the first Spurs player to be sent off in a League match since 1928.
The last League match on a Christmas Day was played
(Christmas Day football).