Leading League goalscorer:
Tommy Lawton
(Everton)
34 goals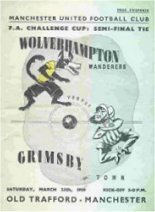 The record attendance at Old Tafford was set on Saturday 25th March 1939 - 76,962 for an FA Cup semi final between Wolves and Grimsby.

By scoring 34 of their 88 League goals Tommy Lawton did more than most in helping Everton to the title in 1938/39. His pay for doing that - just £514 for the whole year to May 1939. That was made up of £366 basic pay from the club (£8 a week in the winter, £6 a week in the summer), £59 bonus at £1 per league point, £25 bonus for winning the League championship and £64 for playing 8 times for England. And that was before tax!


1
Everton
42
27
5
10
88
52
59