Leading League goalscorer:
Andrew Mangan
(Forest Green Rovers)
26 goals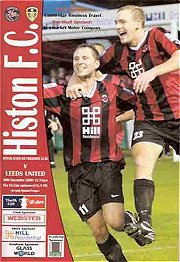 Six Conference clubs reached the Third Round of the FA Cup with two - Kettering and Torquay - reaching the Fourth Round. Pick of the giantkilling results went to Histon with their 1-0 home Second round victory over Leeds United (results).
Three clubs fell foul of the rule-book and had points deductions, all for fielding unregistered players. Oxford United lost 5 points for playing Eddie Hutchinson , Mansfield 4 points (Aaron O'Connor, Tom Shaw, Anthony Robinson and Luke Herriott) and Crawley 1 point (Isaiah Rankin). In each case the clubs lost the points won in matches that the players started in, but not where they made appearances as substitutues.
When Rushden & Diamonds won 9-0 at Weymouth on Saturday 21st February 2009 and bookies lost an estimated £1 million on the result a scandal looked to be brewing. But Weymouth were suffering a financial crisis and were forced to field their youth side in the match. Weymouth fans realised this before the bookies did - and made a killing betting against their own side!