Leading League goalscorer:
Andy Bishop
(York City)
23 goals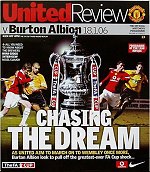 Lightening can strike twice - for the second season in a row a Conference side drew Manchester United in the Third Round of the FA Cup - and both Exeter last season and Burton Albion this season took their mighty opponents to a replay. They lost - but the memories....and money (results)
Altrincham fell foul of the rule book and finished bottom of the League after an 18 point deduction - but escaped relegation! Their problems started when they signed James Robinson from eventual champions Accrington. He played in 14 matches and scored 4 goals before moving on to Richmond Eagles in Australia. However it was then found that Accrington had not obtained his international clearance after a spell in Iceland before signing for them. So he was ineligible to play in England - he hadn't played for Stanley but Altrincham had to forfeit all the 18 points the club had picked up with him in the side. But they escaped relegated because...
...with the Conference increasing to 24 clubs in 2006/07 only 2 clubs were relegated this season and....
..Canvey Island were one of them. Having been a member of the non-league elite for 2 seasons they lost their main financial backer which left them with severe money problems. They dropped 3 divisions - to the Ryman (Isthmian League) Division 1 North - for the start of the 2006/07 season and....
...Scarborough also suffered serious financial problems which saw them forcibly relegated to the Conference North (within a year Scarborough FC were no more)
The clubs who gained promotion to the National Conference for 2006/07 were Conference North sides Northwich Victoria (champions) and Stafford Rangers (play-offs) and Conference South sides Weymouth (champions) and St Albans City (play-offs).