Leading League goalscorer:
Paul Dobson
(Gateshead)
25 goals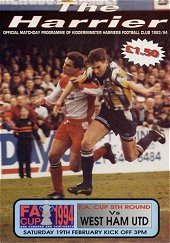 A season of mixed fortunes for Kidderminster Harriers. For the first time they finished as Conference champions but were denied promotion to the Football League as their Aggborough ground was not considered up to League standards. It was good enough though for a good FA Cup run and they became only the fifth club since the war to reach the 5th Round where they lost 0-1 to West Ham at Aggborough.
Amazingly finished as runners-up despite having only scored 46 goals in 42 matches!