1991/92 F.A. Charity Shield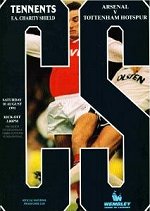 Saturday 10th August 1991
Venue: Wembley Stadium
Arsenal 0
Tottenham Hotspur 0


(each club held the Shield for 6 months)


Half-time 0-0
Attendance: 65,483
The Charity Shield match was between 1990/91 Football League champions, Arsenal, and 1990/91 FA Cup winners Tottenham Hotspur.
Arsenal: D Seaman, L Dixon, N Winterburn, D Hillier, D O'Leary, T Adams, D Rocastle (sub: M Thomas), P Davis, A Smith, P Merson, K Campbell (sub: A Cole).
Tottenham Hotspur: E Thorstvedt, T Fenwick, P van den Hauwe, S Sedgley, D Howells, G Mabbutt, P Stewart, Nayim, V Samways, G Lineker, P Allen.