1981/82 Charity Shield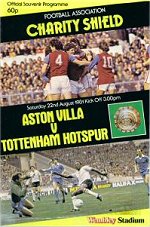 Saturday 22nd August 1981
Venue: Wembley Stadium
Aston Villa 2
(Withe 2)
Tottenham Hotspur 2
(Falco 2)
(each club held the Shield for 6 months)




Half-time 1-1
Attendance: 92,500
The Charity Shield match was between 1980/81 Football League champions, Aston Villa, and 1980/81 FA Cup winners Tottenham Hotspur.
Aston Villa: J Rimmer, K Swain, C Gibson, A Evans, K McNaught, D Mortimer (sub: A Blair), D Bremner, D Geddis, P Withe, G Cowans, A Morley.
Tottenham Hotspur: R Clemence, C Hughton, P Miller, G Roberts, J Villa, S Perryman, O Ardiles, S Archibald, A Galvin, G Hoddle, M Falco.