1978/79 Charity Shield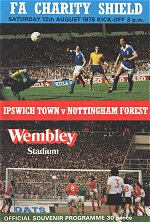 Saturday 12th August 1978
Venue: Wembley Stadium
Nottingham Forest 5
(O'Neill 2, Withe, Lloyd, Robertson)
Ipswich Town 0
Half-time 2-0
Attendance: 68,000

The Charity Shield match was between 1977/78 Football League champions, Nottingham Forest, and 1977/78 FA Cup winners Ipswich Town.
Nottingham Forest: P Shilton, V Anderson, C Barrett, J McGovern, L Lloyd, K Burns, M O'Neill (sub: D Needham), A Gemmill, P Withe, T Woodcock, J Robertson.
Ipswich Town: P Cooper, G Burley, M Mills, B Talbot, R Osman, J Wark, T Parkin, E Gates, P Mariner, T Whymark (sub: R Turner), C Woods.