1977/78 Charity Shield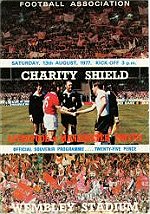 Saturday 13th August 1977
Venue: Wembley Stadium
Liverpool 0
Arsenal 0
(each club held the Shield for 6 months)
Half-time 0-0
Attendance: 82,000

The Charity Shield match was between 1976/77 Football League champions, Liverpool, and 1976/77 FA Cup winners Manchester United.
Liverpool: R Clemence, P Neal, J Jones, P Thompson, R Kennedy, E Hughes, K Dalglish, J Case, D Fairclough, T McDermott, I Callaghan.
Manchester United: A Stepney, J Nicholl, A Albiston, S McIlroy, B Greenhoff, M Buchan, S Coppell, J Greenhoff (sub: D McCreery), J Pearson, L Macari, G Hill.