1968/69 Charity Shield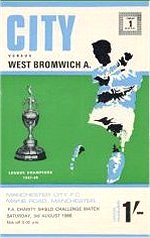 Saturday 3rd August 1968
Venue: Maine Road, Manchester City FC
Manchester City 6
(Owen 2, Lee 2, Lovett og, Young)
West Bromwich Albion 1
(Krzywicki)

Half-time 3-1
Attendance: 35,510
The Charity Shield match was between 1967/68 Football League champions, Manchester City, and 1967/68 FA Cup winners West Bromwich Albion.
Manchester City: K Mulhearn, D Connor, G Pardoe, M Doyle, G Heslop, A Oakes, F Lee, C Bell, M Summerbee, R Owen, N Young.
West Bromwich Albion: J Osborne (sub: A Merrick), D Fraser, G Williams, G Lovett, J Talbut, J Kaye, K Stephens, T Brown, R Krzywicki, I Collard, R Hartford.