1967/68 Charity Shield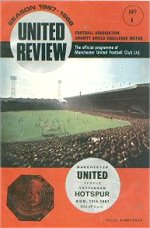 Saturday 12th August 1967
Venue: Old Trafford, Manchester United FC
Manchester United 3
(Charlton 2, Law)
Tottenham Hotspur 3
(Robertson, Jennings, Saul)
(each club held the Shield for 6 months)


Half-time 2-2
Attendance: 54,106
The Charity Shield match was between 1966/67 Football League champions, Manchester United, and 1966/67 FA Cup winners Tottenham Hotspur.
Manchester United: A Stepney, S Brennan, A Dunne, P Crerand, W Foulkes, N Stiles, G Best, D Law, R Charlton, B Kidd, J Aston.
Tottenham Hotspur: P Jennings, J Kinnear, C Knowles, A Mullery, M England, D Mackay, J Roberston, J Greaves, A Gilzean, T Venables, F Saul.