1966/67 Charity Shield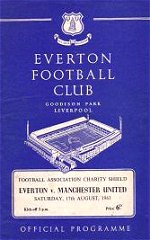 Saturday 13th August 1966
Venue: Goodison Park, Everton
Liverpool 1
(Hunt)
Everton 0

Half-time 1-0
Attendance: 63,329
The Charity Shield match was a local derby between 1965/66 Football League champions, Liverpool, and 1965/66 FA Cup winners Everton.
Liverpool: T Lawrence, C Lawler, G Byrne, T Smith, R Yeats, W Stevenson, I Callaghan, R Hunt, I St John, G Strong, P Thompson.
Everton: G West, T Wright, R Wilson, J Gabriel, B Labone, G Glover, A Scott, A Young, M Trebilcock, J Harvey, D Temple.