1961/62 Charity Shield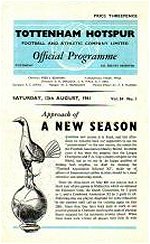 Saturday 12th August 1961
Venue: White Hart Lane, Tottenham Hotspur FC
Tottenham Hotspur 3
(Allen 2, Smith)
FA XI 2
(Haynes, Byrne)

Half-time 1-1
Attendance: 36,593
When Spurs became the first club to win the League Championship/FA Cup double since the Charity Shield came into being a problem arose - who would they play in the Charity Shield? The problem was solved with the opposition being a representative side who played under the banner of the FA.
Tottenham Hotspur: B Brown, P Baker, R Henry, D Blanchflower, M Norman, D Mackay, C Jones, J White, B Smith, L Allen, T Dyson.
FA XI: R Springett (Sheffield Wednesday), J Armfield (Blackpool), M McNeil (Middlesbrough), B Robson (West Bromwich Albion), P Swan (Sheffield Wednesday), R Flowers (Wolverhampton Wanderers), B Douglas (Blackburn Rovers), J Robson (Burnley), J Byrne (Crystal Palace), J Haynes (Fulham), B Charlton (Manchester United).