1957/58 Charity Shield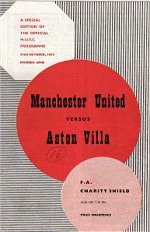 Tuesday 22nd October 1957
Venue: Old Trafford, Manchester United FC
Manchester United 4
(Taylor 3, Berry pen)
Aston Villa 0
Half-time 0-0
Attendance: 27,923

The Charity Shield match was between 1956/57 Football League champions, Manchester United, and 1956/57 FA Cup winners Aston Villa.
Manchester United: R Wood, W Foulkes, R Byrne, F Goodwin, J Blanchflower, D Edwards, J Berry, W Whelan, T Taylor, D Viollet, D Pegg.
Aston Villa: N Sims, S Lynn, P Aldis, S Crowther, J Dugdale, P Saward, L Smith, J Sewell, D Pace, W Myerscough, P McParland.