THE WATNEY CUP
.... or to give it it's full moniker The Watney Mann Invitation Cup, joined the fixture list at the start of the 1970/71 season. It was the first sponsored competition played for by Football League clubs - Watney's being a major brewer back then with Watney's Red Barrel providing the bulk of my liquid intake at the time. The competition was made up of 8 clubs - two from each of the four divisions who in the previous season had been the top scorers in their division and who had not been either promoted or won a place in a European competition.
It initially proved to be a popular competition adding a bit of competitive spice to the normally pedestrian pre-season friendly fixture list. It also proved to be innovative by introducing to the British game the penalty shoot-out to settle drawn matches. In the second season of the competition there was an experiment with the rules with offside being restricted only to the penalty area. It proved to be a success with fewer stoppages and less defensive football.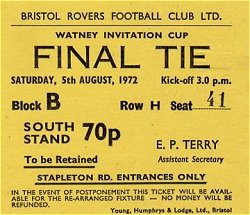 It also opened the eyes of the football world to a new and eventually lucrative source of money from sponsorship. Competing clubs not only had a share of gate receipts and TV income but each participating side received £4,000 for entering. Another £500 went to each first round winners, £500 more for a victory in the semis and £1000 for the winners. In addition The Football League and Football Association shared £50,000 from the sponsors. So perhaps not surprisingly only one club ever declined an invitation to enter.
With proven goalscorers making up the competing clubs the first season saw each match averaging over 4 goals and 21,012 spectators a game going through the turnstiles. That second statistic was helped by Manchester United's participation and the fact that - for the only time in the four years of the competition - both finalists were from the First Division.
Manchester United competed in the second season and their 2-1 first round defeat at Halifax saw the top attendance in the competition - 19,765 (gate receipts £7,782) - but overall the average dropped to 12,196. Manchester United qualified for the third Watney Cup in 1972 but declined the invitation. Presumably following their early defeat at Halifax in 1971 they wanted a more secure pre-season fixture list and arranged friendlies in Torquay, Bournemouth, Copenhagen and Berlin when the Watney Cup was being decided. Bristol Rovers won the 1972 tournament with average attendances slipping again, to 11,648.
The giant-killing of 1971 and 1972 came to an end in 1973 when First Division Stoke won the competition and that helped increase the average crowd to 13,196 but despite that improvement the 1973 tournament proved to be the fourth and final staging of the competition.
Full results -
1970/71

Competing clubs -
First Division - Derby County & Manchester United
Second Division - Hull City and Sheffield United
Third Division - Fulham & Reading
Fourth Division - Aldershot and Peterborough United

First Round (Saturday August 1st 1970)

Aldershot
0
-
6
Sheffield United
Fulham
3
-
5
Derby County
Peterborough United
0
-
4
Hull City
Reading
2
-
3
Manchester United
Semi Final (Wednesday August 5th 1970)
Derby County
1
-
0
Sheffield United
Hull City
1
-
1
Manchester United
Manchester United won on 4-3 penalties

Final
Saturday 8th August 1970

Derby County 4
(McFarland, Hinton, Durban, Mackay)
Manchester United 1
(Best)

Attendance: 32,049

Derby County
Green; Webster, Robson, Durban, McFarland, Mackay, McGovern, Carlin, O'Hare, Hector, Hinton.

Manchester United
Stepney; Edwards, Dunne, Crerand, Ure, Sadler, Morgan (sub: Stiles), Law (sub: Fitzpatrick), Charlton, Kidd, Best.

*********

1971/72


Competing clubs -
First Division - Manchester United & West Bromwich Albion
Second Division - Carlisle United & Luton Town
Third Division - Halifax Town & Wrexham
Fourth Division - Colchester United & Crewe Alexandra
First Round (Saturday July 31st 1971)
Colchester United
1
-
0
Luton Town
Crewe Alexandra
1
-
3
Carlisle United
Halifax Town
2
-
1
Manchester United
Wrexham
1
-
2
West Bromwich Albion
Semi Final (Wednesday August 4th 1971)
Colchester United
2
-
0
Carlisle United
Halifax Town
0
-
2
West Bromwich Albion

Final
Saturday 7th August 1971

West Bromwich Albion 4
(Cantello, Astle 2, Suggett)
Colchester United 4
(Mahon 2, Simmons, Lewis)

Colchester won 4-3 on penalties

Attendance: 19,009

West Bromwich Albion
Cumbes; Hughes, Wilson, Cantello, Wile, Kaye, Suggett, Brown, Astle, Hope, Hartford.

Colchester United
Smith; Cram, Gilchrist, Bloss, Garvey, Burgess, Owen, Lewis, Simmons, Gibbs, Mahon.

*********

1972/73


Competing clubs -
First Division - Sheffield United & Wolverhampton Wanderers
Second Division - Blackpool & Burnley
Third Division - Bristol Rovers & Notts County
Fourth Division - Lincoln City & Peterborough United
First Round (Saturday July 29th 1972)
Bristol Rovers
2
-
0
Wolverhampton Wanderers
Lincoln City
0
-
1
Burnley
Notts County
0
-
3
Sheffield United
Peterborough United
0
-
0
Blackpool
Peterborough won 7-6 on penalties
Semi Final (Wednesday August 2nd 1972)
Burnley
0
-
2
Bristol Rovers
Peterborough United
0
-
4
Sheffield United

Final
Saturday August 5th 1972

Bristol Rovers 0
Sheffield United 0

Bristol Rovers won 7-6 on penalties

Attendance: 19,768

Bristol Rovers
Sheppard; Roberts, Parsons, Green, Taylor, Price (sub: B Jones), Stephens, W Jones, Allan, Bannister, Godfrey.

Sheffield United
McAlister; Goulding, Hemsley, Mackenzie, Colquhoun, Hockey, Woodward, Salmons, Dreaden, Currie, Scullion.

*********

1973/74


Competing clubs -
First Division - Stoke City & West Ham United
Second Division - Bristol City & Hull City
Third Division - Bristol Rovers & Plymouth Argyle
Fourth Division - Mansfield Town & Peterborough United
First Round (Saturday August 11th 1973)
Bristol Rovers
1
-
1
West Ham United
Bristol Rovers won 6-5 on penalties
Mansfield Town
0
-
3
Hull City
Peterborough United
1
-
2
Bristol City
Plymouth Argyle
0
-
1
Stoke City
Semi Final (Tuesday August 14th 1973)
Bristol Rovers
0
-
1
Hull City
Semi Final (Wednesday August 15th 1973)
Stoke City
4
-
1
Bristol City

Final
Saturday August 18th 1973

Stoke City 2
(Greenhoff 2)
Hull City 0

Attendance: 18,159

Stoke City
Farmer; Marsh, Pejic, Mahoney, Smith, Bloor, Robertson, Greenhoff, Hurst, Conroy, Haslegrave.

Hull City
Wealands; Banks, Devries, Galvin, Deere, Kaye, Lord, McGill, Pearson, Wagstaff (sub: Hemmerman), Greenwood.

*********