MORE THIS & THAT....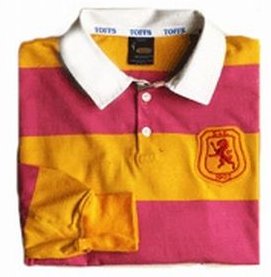 Retro shirts are very much in fashion these days but there is one Scottish shirt that you don't often see accompanying a kilt. At the turn of the 20th Century Lord Rosebery was an influential figure in Scottish football having been the Prime Minister as well as President of the FA and Hearts. He was also a famous racehorse owner with his horses winning the Derby in 1894, 1895 and 1905. He persuaded the Scottish FA to allow the Scotland team to ditch their traditional dark blue shirts and play in his racing colours - of primrose and pink! This they did on at least nine occasions starting in 1881 with the last time being in 1951 against France. Perhaps the most notable match in which they wore those colours was a 4-1 victory over England at Celtic Park in April 1900 when Rosebery told the Scottish captain "I have never seen my colours so well sported since Ladas won the Derby."
*********
So am I the only one who thinks the only important match statistic is the number of goals scored? In the absence of a decent England showing all the news around Euro 2012 seemed to be based on stats. Spain averaged 626.3 passes a match managed in an average of 60.03% possession. Is that really possible - who counts these things? And for those really interested those passes can be split into long and short passes, successful and unsuccessful ones....and so on. The 860 passes Spain made in the Ireland match (788 completed) was a team record and Xavi's 136 passes (127 completed) were an individual record. There were 21.7 shots per match, in their match against Italy England's most frequent passing combination was between Joe Hart and Andy Carroll, Wayne Rooney slept for 83.2% of each match he played in (sorry I made that one up...or did I?).
The commercial interests couldn't resist facts like those. Players wearing Nike boots scored 60% of the goals compared with 20% for adidas. Based on time on the pitch, 47% of the players wore Nike and 38% adidas.
The only stat I will remember is that England needed to improve 100%.
*********
Herbert Chapman was a brilliant manager and will always be remembered for his successes at both Huddersfield Town and Arsenal. He was a deep-thinker - from tactics right through to floodlights, playing kit and even ground design. He also didn't miss a marketing opportunity. He could never understand why the underground station next to the Highbury ground was called Gillespie Road. He saw it as an advertising opportunity missed and argued that renaming the station Arsenal would benefit both the football club and the underground's owners, the London Electric Railway. If the name 'Arsenal' was presented to every user of the underground it would attract new supporters to the club and additional journeys on the underground. Not that a change would be easy. As now every map and timetable would need to be changed but in addition, in those pre-computer days,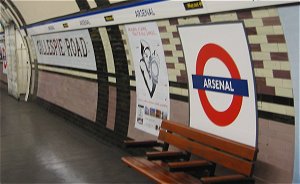 every ticket was pre-printed with destination names on them. But as Herbert brought success to Arsenal the bargaining power they had over the underground owners grew and on 5th November 1932 the name of the station was duly changed from Gillespie Road to Arsenal - the Gunners celebrating that day with a 7-1 First Division victory at Wolves!
*********
In Fulham's 'Inside The Cottage' programme notes for the visit of Middlesbrough in a Division Three match at Craven Cottage on Saturday 27th September 1986 the writer gave plenty of encouragement to the cause for their following home match - against Liverpool in the second leg of a Littlewoods Cup tie. It was perhaps a little tongue-in-cheek - Fulham had lost the first leg 0-10!
*********
"Perhaps I shouldn't say it, but I'm maybe a little too intelligent to be a footballer".
So claimed Joey Barton in a French newspaper in November 2012. That's the same Joey Barton who was in France after being banished from the English game after being red-carded and then attacking two Manchester City players while at QPR. And that's the same Joey Barton who in 2008 was jailed for 6 months (he served 77 days) for common assault and then given a four months suspended sentence for a training ground assault on former teammate Ousmane Dabo.
*********
Fulham hit the headlines in September 1980 when they played Wigan in a 13-a-side match. Well, it was Rugby League!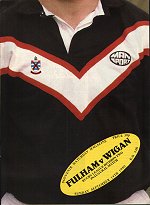 It had to happen. Clubs in the round ball code were looking for extra income, particularly from under-utilised grounds, while the professional oval ball game was looking to expand beyond its traditional boundaries. The inevitable result was that football clubs and rugby league clubs would join forces and play from a single ground.
The trendsetters were Fulham and unlike what happens currently where football clubs and rugby union clubs share grounds but remain independent organisations, Fulham FC formed at Rugby League club in their name and entered the Second Division of the Rugby League.
There first competitive match could hardly have been against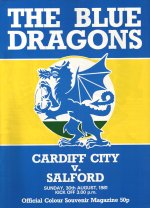 better opposition - Wigan, who were having something of a 'blip' in their fortunes at the time. In the match played at Craven Cottage on Sunday September 14th 1980 Fulham won 24-5 and both clubs were to go on to win promotion in the 1980/81 season.
The crowd that day was 9554 which was to be Fulham's rugby clubs' best League gate of the season (home or away) although they did attract higher attendances at Craven Cottage in cup matches against Leeds (12,583) and Wakefield Trinity (15,013).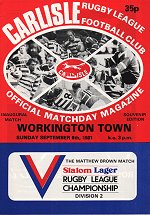 However with the average home attendance being over 6000 - and having gained promotion - the experiment was considered an initial success.
Rugby League hadn't had a home in London since the 1930s so Fulham offering a home for the sport was a major coup for the Rugby League authorities. However they were not alone and both Cardiff City and Carlisle followed their lead in the 1981/82 season. But while London still has its Rugby League side (which has descended from Fulham although no longer part of Fulham FC) that particular experiment did not prove to be a long-term success.
*********

Brian Clough, a character you either loved or hated but I'm sure one you miss. A brilliant manager, he took Derby to the top and Forest to the very top and without him they have hardly gone past being ordinary. As an England manager? Well, he certainly wouldn't have been any worse than we are used to, probably a lot better, certainly very entertaining. But we can still be entertained by the man, the things he said are still with us and I'm sure they will still make us laugh, make us wonder or make us angry.....

'The River Trent is lovely. I know because I've walked on it for 18 years.'
*****

'I wouldn't say I was the best manager in the business....but I was in the top one.'
*****
About one of his regrets:
'Telling the entire world and his dog how good a manager I was. I knew I was the best but I should have said nowt and kept the pressure off because they'd have worked it out for themselves.'
*****

About how he dealt with anyone bold enough to disagree with him:
'We talk about it for 20 minutes and then we decide I was right.'
*****

About the importance of playing on the deck
'If God had wanted us to play football in the clouds he would have put grass up there.'
*****

About what he was going to call new signing Teddy Sheringham:
'I'm calling you Edward because that's what it says on your birth certificate.'
*****

'Ah yes. Frank Sinatra. He met me once you know!'
*****
About dealing with Roy Keane:
'I only ever hit Roy the once. He got up so I couldn't have hit him very hard.'
*****
About the job he should have had:
'I'm sure the England selectors thought if they took me on and gave me the job, I'd want to run the show. They were shrewd because that's exactly what I would have done.'
*****
About Sven getting his England job:
'At last we've appointed a manager who speaks English better than the players!'
*****
'David Seaman is a handsome young man but he spends too much time looking in his mirror rather than at the ball. You can't keep goal with hair like that.'
*****

'Telling a player to get his hair cut counts as coaching as far as I'm concerned.'
*****

About the offside rule:
'If any one of my players isn't interfering with play they're not getting paid.'
*****

'Rome wasn't built in a day...but then again I wasn't on that particular job.'
*****

About Eric Cantona's kink-fu attack on a fan at Crystal Palace :
'I'd have cut his balls off.''
*****
About his drink problem:
'Walk on water? I know most people out there will be saying that instead of walking on it, I should have taken more of it with my drinks. They are absolutely right.'
*****

'When I go, God's going to have to give up his favourite chair.'
*****

'I want no epitaphs of profound history and all that type of thing. I contributed. I would hope they would say that, and I would hope somebody liked me.'
We certainly did

*********
They say that the one day of the footballing calendar that sees most dreams shattered is the first day of the League season. Before the 2012/13 season started a Liverpool fan bet £44,000 that his side would win the Premier League title. The 25/1 each-way bet with William Hill was set to win him £777,333.33 if they won the title or £205,333.33 if they finished second. Then Liverpool played their first League match - a 3-0 walloping at WBA with West Brom also missing a penalty. Dream over?
*********
March 27th 2017 and in Iceland there are reports of record numbers of babies being born in Icelandic hospitals. It gave some indication of how of how Iceland fans celebrated that Euro victory over England exactly 9 months earlier!
*********
Paul Merson once said of Dimitar Berbatov 'Berbatov's not what they call a runarounder.' In an article in the Daily Mirror at the end of November 2013 the same sort of thing was said, but in a few more words -
Berbatov is sloth cause for Cottage
New Fulham No. 2 Rene Meulensteen used to tell his players at Brondby to imagine they were animals on the pitch. Some pretended to be tigers, other lions - at Craven Cottage Dimitar Berbatov has volunteered as a sloth.
The Bulgarian is so lazy he has moss growing. If he could live his life all over again, he'd ask someone else to do it for him. As a kid, he watched Maradona on TV and knew then what he wanted to do for the rest of his life. Watch TV. Things aren't working out at Fulham - I'd bet serious money that neither is he - and word is he'll hand in a transfer request as soon as he can summon up the energy. Berba likes to get the ball do the work - at home, it even takes out the rubbish for him.
The relaxaholic striker is 3-1 with Corals to leave Fulham in the January window and I'm all over that like Berba's comfort blanket. Meulensteen is 3-1 with 888sport to be Fulham No. 1 by the end of the year.
A great piece of writing and accurate in its predictions. Just a week later Meulensteen replaced Jol as Fulham manager and just before time was called on the January 2014 transfer window Berbatov was shipped out to Monaco on loan.
*********
Going to every home match in a season is quite an achievement even if you have a season ticket. Life just gets in the way at times, but seemingly not so for Wolves fan Peter Abbott who made the headlines in October 2013. His amazing record was not to have missed a home Wolves match since March 1976 which is more amazing still as Peter's home was in Ipswich, a round trip of over 300 miles to Wolverhampton! During that time he had missed only one away match, a 3-0 defeat at Blackburn on the last day of the 1984/85 season. But he could be forgiven for that - the train taking him there broke down! Then life intervened. His stepdaughter got married on October 19th 2013 in deepest Suffolk. Yes, that was a Saturday and no, there could be no getting out of it - he had to miss the League 1 match against Coventry at Molineux. The first time he had missed a home match in 37 years. But Wolves made the pain easier to bear by sending along a surprise wedding guest - Wolves legend Steve Bull. I'm not sure if the bride felt a bit upstaged by all of this - I guess her new husband found out the first time he asked to be let off household duties to go to a football match!
*********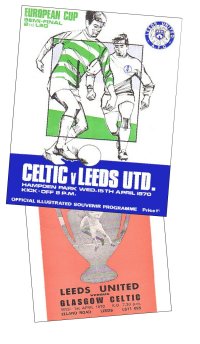 A two-legged European tie with attendances totally over 180,000 - seems unlikely but it did happen in April 1970. Leeds drew Celtic in the semi-finals of the European Cup and in the first leg at Elland Road a very respectable 45,505 witnessed the Scots winning 1-0. The second leg was played at Hampden Park and an amazing 136,505 turned up for that one, a record for a match in a European Club competition. Celtic won that one as well, 2-1, to progress to the final where they lost to Feyenoord, the first time a Dutch club had won the competition.
Despite those attendances not everyone was over-awed by the occasion. The Yorkshire Post reported on one Celtic supporter who arrived at the Elland Road turnstiles with ticket in hand. The police searched him and found he had a bottle of whisky and he was asked to drop in into a box so he could enter the ground. He thought about it, he really thought about it...and then walked away with the whisky and the unused match ticket!
*********
"We are at a club where we can't deal in the top bracket of players we would like to bring here. We are not at Crufts, we are at Battersea Dogs Home. We are looking for strays. We are looking for people who have gone astray with the aim of bringing them back".
What Stoke manager Tony Pulis had to say after signing Matthew Etherington in January 2009. Perhaps not the greatest of welcomes!
*********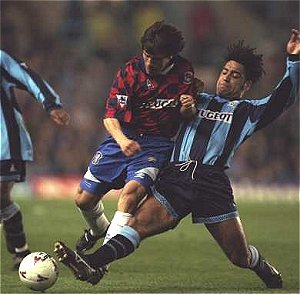 Coventry City shirt sponsors Peugeot got their moneys worth when Chelsea visited Highfield Road for a Premier League match in April 1997. Chelsea only took their home kit with them and that clashed with the Coventry home kit so the Londoners were forced to borrow Coventry's red and black check away shirts. Sadly for the Sky Blues it was the only way to get the likes of Zola, Vialli, Di Matteo and Leboeuf to play in the Premier League in their colours!
*********
Looking back on life it is amazing how seemingly small things have had an dramatic affect on the careers of players and perhaps the history of clubs...
When teenager Roy Sutcliffe had a trial with Manchester United in 1950 he thought he had done enough to impress the club coaches. But as the weeks went by and he heard nothing from Old Trafford his dreams of playing for Manchester United faded and he got on with living his life. Then in 1997 his mother cleaned out a drawer at home and found an unopened letter that she had forgotten to give to her son when it was delivered in 1950. The then 67-year-old Roy discovered that the letter was from Jimmy Murphy, Matt Busby's talent scout, asking him back to Old Trafford for another trial. He said later "I was a little upset at first. I was annoyed when I thought about what might have been. A place at United might have led to all sorts of amazing things. But I have realised what has to be has to be." What might have been? Well instead of fame and fortune as a Busby Babe his football career got no better than as a part-timer for Glossop, and he became a Manchester City supporter. Mind you, had he opened that letter fate might have put him on that plane at Munich in 1958.....
Denis Law made a name for himself at his first League club, Huddersfield Town. In 1960 he was about to make his first move and he was set to join Arsenal. Tommy Docherty, an Arsenal player and a fellow Scottish international, had shown him around Highbury and he was mighty impressed with the set-up there which included underfloor heating in the dressing-room! But when it came to negotiating a move Arsenal only sent their assistant manager, Ron Greenwood, to talk to Law rather than the manager himself, George Swindin. Taking that as a slight Denis Law moved to Manchester City rather than Arsenal. I wonder how the career of Law, also well as the histories of Arsenal, Manchester City and Manchester United, would have been different had George Swindin found time to talk to the 'King' and Law had signed for Arsenal?
*********
Barry Fry is one of those football personalities you love or hate, but you can never criticize his passion for the game. While manager of Barnet he was once found by police mowing the Underhill pitch by moonlight 4am one Saturday morning. He said that he couldn't sleep thinking about the match later that day so decided to get up and do something useful. On another occasion he re-mortgaged his home to pay off the clubs' debts. How many other managers would do that?
*********
Well, if you think the fans of Carlisle United or Plymouth Argyle have a tough time when it comes to travelling to away matches spare a thought for Russian fans when Luch-Energiya were members of the Russian Premier League. While most of the members of the League were in the Moscow area Luch-Energiya were from Vladivostok on the eastern Pacific coast of the country. That is 4,000 miles from Moscow as the crow flies or over 6,000 miles by road, avoiding Mongolia and China! After one trip to Luch-Energiya CSKA Moscow goalkeeper Igor Akinfeev complained that the club 'should play in the Japanese League' and he was just complaining about the seven hour flight (and a 4-0 defeat!). He only had to make the journey once a year - Luch-Energiya players and supporters had to do it every other week. When Zenit St Petersburg visited Vladivostok in 2006 three intrepid fans - Aleksandr Zaraysky, Evgeny Stepanov and Veronika Davidova - decided to make the 12,000 + miles round trip by car to support their club. They got to Vladivostok but then the car decided enough was enough and gave up the ghost stranding the trio in darkest Siberia. It took them a six-day train trip on the Trans Siberian Railway to get them back to St Petersburg. But thankfully there was a happy ending. To mark their madness loyalty Zenit presented the trio with a new car - and two years later Luch-Energiya were relegated!
*********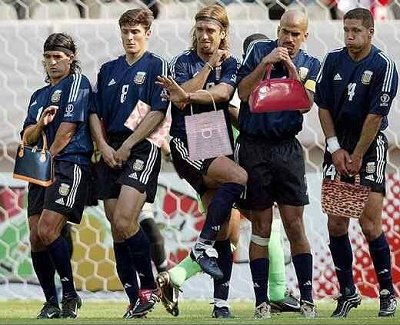 What did we ever do for humour before Photoshop came along?
*********
When thinking of the matches Wembley Stadium has staged thoughts immediately go to the Cup Finals and internationals rather than Clapton Orient in the Third Division (South)! But it happened.
Clapton Orient - now Leyton Orient - moved to their Millfields Road ground in 1900. All was well at the ground - which had a record attendance of 31,400 against Newcastle in 1926 - until 1927 when a greyhound racing syndicate bought the ground from the local council. Relations between the greyhound and football fraternities were soon strained with the O's being banned from using the ground for training or the boardroom on match days. A new ground was needed and this they found just half a mile away at Lea Bridge Road.
The oval-shaped ground had been used for speedway and had a wooden fence around the perimeter. The first League match at the ground was on the afternoon of Thursday September 4th 1930 (no floodlights in those days) with 5505 specators witnessing them defeat Newport County in Division 3 (South). A couple of months later when the O's had beaten Torquay United 4-0 the visitors complained that the wooden fencing was too close to the pitch and affected their play. As a result the Football League closed the ground for alterations to be made.
While those alterations were being made Clapton Orient played their two home League matches at Wembley Stadium. On Saturday November 22nd 1930 the Third Division South match against Brentford was staged at the famous Stadium and 8319 fans witnessed a 3-0 'home' win. Two weeks later on Saturday December 6th the O's defeated Southend United 3-1 at their temporary home although terrible weather cut the attendance to 1916.
Between those two matches - on Saturday November 29th - a 'home' FA Cup First Round replay against Luton Town was staged at Arsenal's Highbury stadium. An attendance of 8021 witnessed a 4-2 victory for Luton.
With the works at Lea Bridge Road completed Clapton Orient played at that ground until their move to their present Brisbane Road ground. Their last match at Lea Bridge Road was in April 1937 with the O's taking over Brisbane Road from Leyton Amateurs at the start of the following season.

*********
In 2011 when Juventus moved from their old Stadio delle Alpi ground in Turin to their new Juventus Stadium any club in the world would probably have been happy to provide the opposition in the official opening of the new ground. So who did they invite - Real Madrid, Barcelona, Manchester United? No....Notts County from League 1 of the Football League! So on September 3rd 2011 Notts County beat Bournemouth 3-1 at Meadow Lane in a League 1 game, they then jetted out to Turin to play the Italian giants on the Thursday and two days later they were back at Meadow Lane when they beat Walsall 2-1 in another League 1 fixture.

Why Notts County? The historical link between the two clubs dates back to 1903 when Juventus decided to change the shirt colour they had been playing in since they were founded - pink! They asked an English team member, John Savage, for help and he in turn contacted a friend in Nottingham to send out a set of shirts to Turin. As a Notts County supporter the shirts he sent were inevitably black and white stripes. Had he been a Forest supporter perhaps Juventus would have found themselves in red shirts but as it was the iconic shirts of Juventus were black and white stripes and the historic link with Notts County, the oldest professional football club in the world, was forged. It was an amazing gesture for Juventus to invite Notts County to do the honours at the ground opening and the visitors were not overawed with Luca Toni and Lee Hughes scoring the goals in a 1-1 draw.

*********

On Saturday December 12th 1896 Arsenal - then Woolwich Arsenal - had to play two matches, one in the Football League and one in the FA Cup. The reserves played at home to Leyton in the FA Cup and won 5-0 but the first team travelled to mighty Loughborough and lost 0-8 in a Second Division match which is still their record League defeat. Match report of that match.

*********

Well, how do I say this without lowering the tone too much! One of those pleasurable things in life is to 'break wind' in a quiet and private way. Sadly you can't seem to do that in the Swedish League. In June 2016 Pershagen player Adam Lindin Ljungkvist farted during a match against Jarna. It was a little too loud though and was not only heard by the opposition but also by the referee - and the ref, Dany Kako, sent him off for 'unsporting behaviour' and a 'deliberate provocation'. Rather than keep quiet about it the dismissed player's flatulence soon saw his fame spread with his quote 'I don't see how a small fart can get so much attention' soon going viral thanks to this computer inter-web thing.

*********



Over the years many an animal has found itself on a football pitch - dogs, chickens, squirrels, foxes and Vinnie Jones to name a few!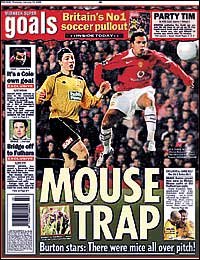 When Burton Albion lost an FA Cup Third Round replay in January 2006 5-0 at Manchester United they complained that they hadn't just been sharing the Old Trafford pitch with their opponents but also with some unexpected visitors - mice. Most grounds have the occasional rodent problem in the spectator areas as a result of large amounts of discarded food waste but it is a tad unusual to find them invading the pitch during a match. United's next match at Old Trafford was against Liverpool four days later and as one United fan said 'Rafa Benitez may think he's the big cheese but I still think Fergie's boys can squeak through'.
But perhaps the strangest creature to be rescued from a football pitch was a....fish! Back in January 2005 Carlisle United's Brunton Park ground was drying out after severe flooding but just before the pitch was finally cleared of water a goldfish was found swimming around the goalmouth. Apparently it had found its way to the ground after escaping from its bowl in a nearby flooded house. Nicknamed Billy after the half-human, half-fish creature who was Fulchester United's goalkeeper in the Viz comic, it was rescued and put in a tank. It proved to be a lucky mascot for the Cumbrian club who were in the Conference at the time. A Carlisle spokesman was later to say about Billy - 'It's fair to say that the good luck tag has been an appropriate one for Billy. From the comfort of a fish tank in the reception at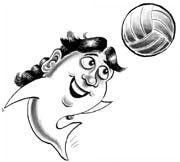 Brunton Park he has overseen United's return to the Football League, the League Two title triumph, trips to the Millennium Stadium and the new Wembley Stadium and even a club record run of 14 consecutive home victories in the 2007/08 season.' Rumour has it that rather than sack unsuccessful managers for a while club chairman took the cheaper option of buying a tank of fish!
*********
With 366 possible dates for a birthday its a bit of a coincidence when two Premier League managers share the same birthday. But what are the odds of those two managers up against each other for the first time - on the day of their birthdays? It happened in 2013. Queen's Park Rangers manager Harry Redknapp and Mauricio Pochettino of Southampton were both born on March 2nd and on March 2nd 2013 their opposing sides met each other in a Premier League match at St Mary's. With 'Arry having had a bit of 'history' at Southampton the home fans made his return to the South coast more than a little uncomfortable but he ended up with the main birthday present - 3 points - with QPR winning 2-1.
When Arsenal recorded a 3-0 Premier League victory over Sheffield United back in the 2006/07 season remarkably all three goalscorers shared the same birthday. The first goal came from William Gallas and the third from Thierry Henry (both born on 17th August 1977) and in-between them Sheffield United's Phil Jagielka (born 17th August 1982) scored an own goal. The perfect conclusion would be to say the match was played on 17th August but sadly no - September 23rd 2006.
Two of the greats of European football - Ruud van Nistelrooy and Patrick Kluivert - were born just a little over 50 miles apart in the Netherlands on the same day, 1st July 1976.
*********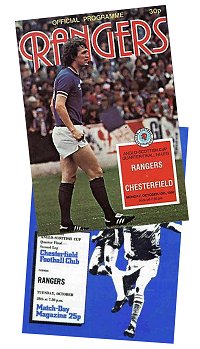 Not many clubs can boast that one of their finest hours was in the Anglo-Scottish Cup, but Chesterfield can. They won the competition in its final season, 1980/81, but it is perhaps not the winning of the trophy but one of the ties that is best remembered. The only Scottish club they played was the mighty Rangers at the quarter-final stage and they beat them 4-1 on aggregate. The clubs drew 1-1 at Ibrox before 14,000 fans and then on Tuesday October 28th 1980 Chesterfield beat Rangers 3-0 at Saltergate before 13,914 fans.
After having progressed from a qualifying group that put them up against Grimsby, Hull and Sheffield United the Spireites then eliminated Rangers before getting the better of Bury in the two-legged semi-finals. The final was against near neighbours Notts County who were beaten 2-1 on aggregate with 23,000 fans watching the two ties.
*********
I always thought that it was a given that Liverpool were going to have a new stadium. Not so from what one of the clubs' owners, John W. Henry, said in June 2012 -
"Whatever the reason, a belief has grown that Liverpool must have a new stadium to compete with United, Arsenal and others. Nobody has ever addressed whether a new stadium is rational. The difference [with Chelsea, Arsenal and others] stems as much from revenue per seat as the number of seats. Even if Liverpool had 60,000 seats, there would have to be an increase from £900 to £1,550 in revenue per seat as well to catch Arsenal. Can Liverpool as a community afford Chelsea or Arsenal prices? No. Our future is based building a strong club that can compete with anyone in Europe. This will be principally driven financially by our commercial strength globally."
I think what he was saying was he would rather take money out of the coffers than put it in!