THIS & THAT....
They say that London is a city of two hundred languages and two million immigrants. Add to that some decent football grounds, great communications with the rest of the world and seemingly footballers of every nationality plying their trade in Britain. The result is that Britain - and London in particular - has become the natural home for far-off countries wanting to stage friendly internationals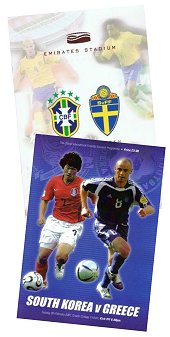 without making the long trip home. Mighty Brazil, for example, established a second home in north London playing their first match at the Emirates Stadium (against Argentina) when Arsenal themselves had only played one Premier match at their new home.
On the Tuesday February 6th 2007 London set a new world record when four full internationals were played in the city on the same evening - and none involved England with the new Wembley still not completed. Brazil were at the Emirates again, playing Portugal, while Ghana v Nigeria was played at Griffin Park (Brentford), South Korea v Greece at Craven Cottage (Fulham) and Australia v Denmark at Loftus Road (QPR). Brazil's match was the only one sold-out but the TV audiences were impressive - an estimated 300 million worldwide watched Brazil v Portugal and another 100 million in Africa watched Ghana beat Nigeria 4-1.
*********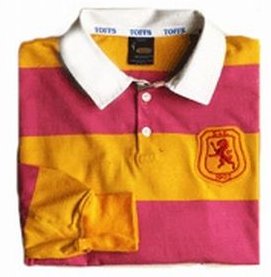 Retro shirts are very much in fashion these days but there is one Scottish shirt that you don't often see accompanying a kilt. At the turn of the 20th Century Lord Rosebery was an influential figure in Scottish football having been the Prime Minister as well as President of the FA and Hearts. He was also a famous racehorse owner with his horses winning the Derby in 1894, 1895 and 1905. He persuaded the Scottish FA to allow the Scotland team to ditch their traditional dark blue shirts and play in his racing colours - of primrose and pink! This they did on at least nine occasions starting in 1881 with the last time being in 1951 against France. Perhaps the most notable match in which they wore those colours was a 4-1 victory over England at Celtic Park in April 1900 when Rosebery told the Scottish captain "I have never seen my colours so well sported since Ladas won the Derby."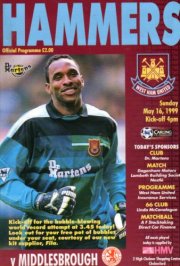 *********
West Ham United were one of the first clubs to have a club anthem having adopted 'I'm Forever Blowing Bubbles' in the 1920's. In 1999 that association saw the Hammers set a new world record. With each fan attending West Ham's last Premier Division match of the 1998/99 season, against Middlesbrough at Upton Park on Sunday May 16th 1999, being given a bubble-blowing pot by kit supplier Fila, 23,680 of them blew bubbles for 1 minute to get into the Guinness Book of World Records.
*********
So am I the only one who thinks the only important match statistic is the number of goals scored? In the absence of a decent England showing all the news around Euro 2012 seemed to be based on stats. Spain averaged 626.3 passes a match managed in an average of 60.03% possession. Is that really possible - who counts these things? And for those really interested those passes can be split into long and short passes, successful and unsuccessful ones....and so on. The 860 passes Spain made in the Ireland match (788 completed) was a team record and Xavi's 136 passes (127 completed) were an individual record. There were 21.7 shots per match, in their match against Italy England's most frequent passing combination was between Joe Hart and Andy Carroll, Wayne Rooney slept for 83.2% of each match he played in (sorry I made that one up...or did I?).
The commercial interests couldn't resist facts like those. Players wearing Nike boots scored 60% of the goals compared with 20% for adidas. Based on time on the pitch, 47% of the players wore Nike and 38% adidas.
The only stat I will remember is that England needed to improve 100%.
*********
"Things were so much easier when I earned £100 a week".
Wolves midfielder Jamie O'Hara - who was reported to earn £35,000 a week - in a Twitter posting in December 2012. I'm sure we all sympathised with him!
*********
Herbert Chapman was a brilliant manager and will always be remembered for his successes at both Huddersfield Town and Arsenal. He was a deep-thinker - from tactics right through to floodlights, playing kit and even ground design. He also didn't miss a marketing opportunity. He could never understand why the underground station next to the Highbury ground was called Gillespie Road. He saw it as an advertising opportunity missed and argued that renaming the station Arsenal would benefit both the football club and the underground's owners, the London Electric Railway. If the name 'Arsenal' was presented to every user of the underground it would attract new supporters to the club and additional journeys on the underground. Not that a change would be easy. As now every map and timetable would need to be changed but in addition, in those pre-computer days,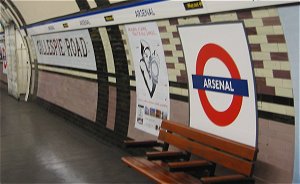 every ticket was pre-printed with destination names on them. But as Herbert brought success to Arsenal the bargaining power they had over the underground owners grew and on 5th November 1932 the name of the station was duly changed from Gillespie Road to Arsenal - the Gunners celebrating that day with a 7-1 First Division victory at Wolves!
*********
In Fulham's 'Inside The Cottage' programme notes for the visit of Middlesbrough in a Division Three match at Craven Cottage on Saturday 27th September 1986 the writer gave plenty of encouragement to the cause for their following home match - against Liverpool in the second leg of a Littlewoods Cup tie. It was perhaps a little tongue-in-cheek - Fulham had lost the first leg 0-10!
*********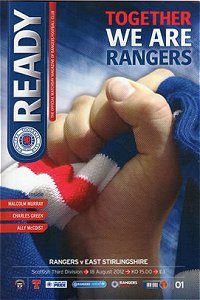 The attendances in the Third Division of the Scottish League for Saturday August 18th 2012 proved interesting reading - 512 (at Annan Athletic), 401 (Clyde), 631 (Elgin City), 498 (Queen's Park) and 49,118 at Rangers for their match against East Stirlingshire. It was the first League match that the new Rangers had played at Ibrox in their new lowly surroundings and set a new world record attendance for a match in the fourth tier of a League competition. The previous record was set in England on 31st March 1961 when 37,774 were present at Selhurst Park for a Crystal Palace v Millwall Football League Fourth Division fixture.
*********
Brian Clough was one of those unpredictable characters. Prior to the 1980 European Cup final in Madrid Cloughie ordered Garry Birtles off the bus taking the team from their hotel to the match and insisted he had a shave. So was that due to Clough's hatred of scruffiness or was it as Birtles thought 'He could see I was nervous and wanted to take my mind off the game'. I wonder!
*********
"Perhaps I shouldn't say it, but I'm maybe a little too intelligent to be a footballer".
So claimed Joey Barton in a French newspaper in November 2012. That's the same Joey Barton who was in France after being banished from the English game after being red-carded and then attacking two Manchester City players while at QPR. And that's the same Joey Barton who in 2008 was jailed for 6 months (he served 77 days) for common assault and then given a four months suspended sentence for a training ground assault on former teammate Ousmane Dabo.
*********
Fulham hit the headlines in September 1980 when they played Wigan in a 13-a-side match. Well, it was Rugby League!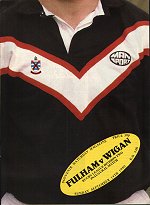 It had to happen. Clubs in the round ball code were looking for extra income, particularly from under-utilised grounds, while the professional oval ball game was looking to expand beyond its traditional boundaries. The inevitable result was that football clubs and rugby league clubs would join forces and play from a single ground.
The trendsetters were Fulham and unlike what happens currently where football clubs and rugby union clubs share grounds but remain independent organisations, Fulham FC formed at Rugby League club in their name and entered the Second Division of the Rugby League.
There first competitive match could hardly have been against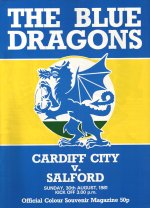 better opposition - Wigan, who were having something of a 'blip' in their fortunes at the time. In the match played at Craven Cottage on Sunday September 14th 1980 Fulham won 24-5 and both clubs were to go on to win promotion in the 1980/81 season.
The crowd that day was 9554 which was to be Fulham's rugby clubs' best League gate of the season (home or away) although they did attract higher attendances at Craven Cottage in cup matches against Leeds (12,583) and Wakefield Trinity (15,013).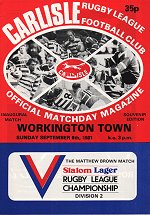 However with the average home attendance being over 6000 - and having gained promotion - the experiment was considered an initial success.
Rugby League hadn't had a home in London since the 1930s so Fulham offering a home for the sport was a major coup for the Rugby League authorities. However they were not alone and both Cardiff City and Carlisle followed their lead in the 1981/82 season. But while London still has its Rugby League side (which has descended from Fulham although no longer part of Fulham FC) that particular experiment did not prove to be a long-term success.
*********

Gordon Strachan is always good for a quote. One has reached almost legend status, his comment on Eric Cantona's trawler and seagulls quote - 'If a Frenchman goes on about seagulls, trawlers and sardines, he's called a philosopher. I'd just be called a short Scottish bum talking crap.' However reporters beware because if you ask him a silly question you are liable to get a quote you hadn't anticipated....
Reporter:
'Bang, there goes your unbeaten run. Can you take it?'
Strachan:
'No. I'm just going to crumble like a wreck. I'll go home, become an alcoholic and maybe jump off a bridge. Um, I think I can take it, yeah.'
*****
Reporter:
'So, Gordon, in what areas do you think Middlesbrough were better than you today?'
Strachan:
'What areas? Mainly that big green one out there!'
*****
Reporter:
'This might sound like a daft question, but you'll be happy to get your first win under your belt, won't you?'
Strachan:
You're right. It is a daft question. I'm not even going to bother answering that one. It is a daft question, you're spot on there.'
*****
Reporter:
'Gordon, you must be delighted with that result?'
Strachan:
'You're spot on. You can read me like a book!'
*****
Reporter:
'Gordon, do you think James Beattie deserves to be in the England squad?'
Strachan:
'I don't care, I'm Scottish.'
*****
Reporter:
'You don't take losing lightly, do you Gordon?'
Strachan:
'I don't take stupid comments lightly either.'
*****
Reporter:
'Welcome to Southampton Football Club. Do you think you are the right man to turn things around?'
Strachan:
'No. I was asked if I thought I was the right man for the job and I said 'No, I think they should have got George Graham because I'm useless.'
*****
Reporter:
'Gordon, can we have a quick word please?'
Strachan:
'Velocity' and he walks away!

*********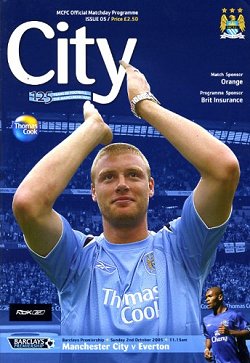 Perhaps I'm too much of a traditionalist but for me weekend football should kick off at 3 o'clock on a Saturday afternoon but the demands of television have seen an assortment of KO times develop over both days of the weekend. Television dictated the earliest kick-off in Premier League history on Sunday October 2nd 2005 at the City of Manchester Stadium when Manchester City were desperate for TV income. Their match against Everton was screened on PPV (pay per view) TV and kicked off at 11.15 on the Sunday morning in front of a 42,681 crowd. TV also dictated the kick-off time of the 2008 Champions League final between Manchester United and Chelsea in Moscow. Us armchair fans saw the match kick off at 7.45 which was perfect for the British and western European TV audience. But the match was played in Moscow and 7.45 for us was 10.45pm local time in Russia. When extra time was over and the penalties were taken it was 1.30 in the morning in Moscow, and the cup still had to be presented!
But TV couldn't be blamed for the earliest kick off in senior football in England - it happened in 1892! Football League side Burton Swifts were double-booked on Saturday 1st October 1892 - a Second Division match at Crewe Alexandra and a home FA Cup Preliminary Round match against Singers of Coventry (a forerunner of Coventry City). They solved the problem by bringing forward the cup tie to the previous Wednesday - with an 8am kick off, yes that's 8 o'clock in the morning! Swifts won 3-0 although there is no record of the attendance!
Many a match has had a delayed kick off because of the late arrival of the visiting team - back in 1961 a nightmare journey led to an abandoned Football League match between Barrow and Gillingham (abandoned matches). Over 50 years later in what was an almost identical journey Ebbsfleet United travelled to Barrow for a Conference match, the team coach leaving Kent at 10.45am on the morning of the match (Wednesday 3rd April 2013) for a 7.45pm kick off in Cumbria. They were soon delayed by an accident on the M25 and then a serious delay on the M6 when a lorry shed its load of baked beans. Ebbsfleet finally arrived at the ground at 8.40pm with kick off being put back to 9.15 and the final whistle in the 1-1 draw being blown a little after 11 o'clock. Then it was back on the coach and a 300-mile plus journey home for Ebbsfleet. The joys of being a footballer!
However the prize for the craziest kick off time must surely go to Barcelona when they entertained Sevilla in a Spanish La Liga fixture in September 2005. The match was scheduled for Wednesday 3rd September which was the day they had to release many of their international players to their countries for a weekend of international fixtures. Not wishing to play with a weakened team Barcelona tried to get the date brought forward to the Tuesday, without success, but what they did control was the kick off time. So they decided to kick off on the Wednesday at 12.05am - 5 minutes past midnight - in the hope that all their star players could play, get a reasonable night's sleep and then leave to join their international squads on the Wednesday morning as the rules required. That ploy wasn't a complete success as far team selection was concerned but the match was a success. Attracted by the novelty of the fixture, cheaper tickets and free snacks an amazing 80,237 turned up at the Nou Camp to witness a 1-1 draw.
*********
They say that the one day of the footballing calendar that sees most dreams shattered is the first day of the League season. Before the 2012/13 season started a Liverpool fan bet £44,000 that his side would win the Premier League title. The 25/1 each-way bet with William Hill was set to win him £777,333.33 if they won the title or £205,333.33 if they finished second. Then Liverpool played their first League match - a 3-0 walloping at WBA with West Brom also missing a penalty. Dream over?
*********
"We are at a club where we can't deal in the top bracket of players we would like to bring here. We are not at Crufts, we are at Battersea Dogs Home. We are looking for strays. We are looking for people who have gone astray with the aim of bringing them back".
What Stoke manager Tony Pulis had to say after signing Matthew Etherington in January 2009. Perhaps not the greatest of welcomes!
*********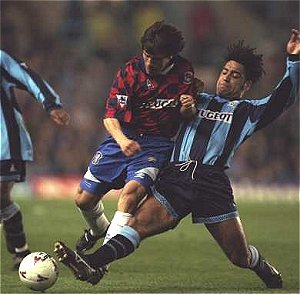 Coventry City shirt sponsors Peugeot got their moneys worth when Chelsea visited Highfield Road for a Premier League match in April 1997. Chelsea only took their home kit with them and that clashed with the Coventry home kit so the Londoners were forced to borrow Coventry's red and black check away shirts. Sadly for the Sky Blues it was the only way to get the likes of Zola, Vialli, Di Matteo and Leboeuf to play in the Premier League in their colours!

*********
In January 2013 Swansea City had beaten European champions Chelsea in the first leg of the League Cup semi-final 2-0 at Stamford Bridge and so were on the verge of their first major cup final. Then came the second leg and the headlines were all about...a ball boy! When Swansea ball boy Charlie Morgan apparently slipped and fell on the ball and was seemingly kicked by Chelsea's Eden Hazard who was trying to retrieve the ball few had any sympathy for Hazard when he was red-carded. Twenty-four hours latter sentiments had changed. Endless TV replays seemed to suggest that Morgan grabbed hold of the ball and wasn't going to let it go and that Hazard had kicked the ball rather than the boy (or youth, he was 17). It emerged that Morgan had tweeted before the match that he would waste time if that was needed. Then, worst of all, Morgan was 'exposed' as the son of a Swansea director and was an heir to a £43 million fortune. The newspapers had the ball boy as living a more affluent lifestyle that the Chelsea superstars so there wasn't going to be much sympathy there! What happened? Well, Charlie Morgan became a Twitter sensation with his followers increasing from 400 before the match to nearly 90,000 immediately after it...and Swansea drew and went through to the Wembley final.
*********
Well, if you think the fans of Carlisle United or Plymouth Argyle have a tough time when it comes to travelling to away matches spare a thought for Russian fans when Luch-Energiya were members of the Russian Premier League. While most of the members of the League were in the Moscow area Luch-Energiya were from Vladivostok on the eastern Pacific coast of the country. That is 4,000 miles from Moscow as the crow flies or over 6,000 miles by road, avoiding Mongolia and China! After one trip to Luch-Energiya CSKA Moscow goalkeeper Igor Akinfeev complained that the club 'should play in the Japanese League' and he was just complaining about the seven hour flight (and a 4-0 defeat!). He only had to make the journey once a year - Luch-Energiya players and supporters had to do it every other week. When Zenit St Petersburg visited Vladivostok in 2006 three intrepid fans - Aleksandr Zaraysky, Evgeny Stepanov and Veronika Davidova - decided to make the 12,000 + miles round trip by car to support their club. They got to Vladivostok but then the car decided enough was enough and gave up the ghost stranding the trio in darkest Siberia. It took them a six-day train trip on the Trans Siberian Railway to get them back to St Petersburg. But thankfully there was a happy ending. To mark their madness loyalty Zenit presented the trio with a new car - and two years later Luch-Energiya were relegated!
*********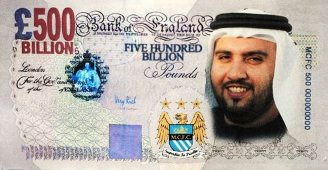 There was a time when a local solicitor or butcher brought welcome financial strength to the Board of Directors of football clubs. Then came the millionaires, then the multi-millionaires and then finally the billionaires. It now seems you can't have a successful club unless you have a billionaire owner, the odd hundred million in the back pocket just isn't enough. Manchester City acquired their billionaire owner in 2008 in Sheikh Mansour bin Zayed Al Nahyan of Abu Dhabi. City fans commemorated the event with these fake £500 billion notes and sat back waiting for the money to be spent and success to arrive. OK, £500 billion as his wealth was a tad optimistic but it is believed his piggy bank was a lot better financed than the owners of Chelsea or Manchester United and so, four years after taking over, City won their first League Championship in 44 years.
*********
The records show that if Tottenham had won their last Premier League match of the season in 2005/06 they would not only have finished one place above Arsenal but would also have pipped their great rivals to the fourth Champions League place. Sadly for Spurs they were not only up against West Ham in that final match but also a far more troublesome opponent. Spurs stayed the night before the match at the five-star Marriott Hotel in Canary Wharf and enjoyed an evening meal of lasagne. That enjoyment turned to horror during the night when practically the whole squad became violently sick with suspected food poisoning. There was one place every suffering player wanted to be - and that wasn't playing a Premier League football match! Without a great deal of guidance from the Premier League authorities Spurs considered postponing the match but fearful of a points deduction (as happened to Middlesbrough in 1996/97) decided against it. West Ham were happy for the kick off to be put back from 3 o'clock to 7 but the police were against that fearing the consequences of the extra drinking time. So the match kicked off as scheduled at 3 and although Spurs put up a good fight the match ended in a 2-1 West Ham victory and Arsenal - who played their last match at Highbury that day - had got the better of Tottenham yet again.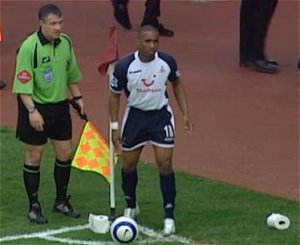 But the conspiracy theorists had a field day checking the Marriott kitchen staff to see if any were related to Arsene Wenger, the police were called and samples taken and Spurs tried to get the match replayed, all to no avail. But as disappointed as Spurs were they must have been pleased by the sporting attitude of the West Ham fans. The Hammers faithful knew exactly what the Spurs players needed and were happy to provide it to them, see picture!
*********
When thinking of the matches Wembley Stadium has staged thoughts immediately go to the Cup Finals and internationals rather than Clapton Orient in the Third Division (South)! But it happened.
Clapton Orient - now Leyton Orient - moved to their Millfields Road ground in 1900. All was well at the ground - which had a record attendance of 31,400 against Newcastle in 1926 - until 1927 when a greyhound racing syndicate bought the ground from the local council. Relations between the greyhound and football fraternities were soon strained with the O's being banned from using the ground for training or the boardroom on match days. A new ground was needed and this they found just half a mile away at Lea Bridge Road.
The oval-shaped ground had been used for speedway and had a wooden fence around the perimeter. The first League match at the ground was on the afternoon of Thursday September 4th 1930 (no floodlights in those days) with 5505 specators witnessing them defeat Newport County in Division 3 (South). A couple of months later when the O's had beaten Torquay United 4-0 the visitors complained that the wooden fencing was too close to the pitch and affected their play. As a result the Football League closed the ground for alterations to be made.
While those alterations were being made Clapton Orient played their two home League matches at Wembley Stadium. On Saturday November 22nd 1930 the Third Division South match against Brentford was staged at the famous Stadium and 8319 fans witnessed a 3-0 'home' win. Two weeks later on Saturday December 6th the O's defeated Southend United 3-1 at their temporary home although terrible weather cut the attendance to 1916.
Between those two matches - on Saturday November 29th - a 'home' FA Cup First Round replay against Luton Town was staged at Arsenal's Highbury stadium. An attendance of 8021 witnessed a 4-2 victory for Luton.
With the works at Lea Bridge Road completed Clapton Orient played at that ground until their move to their present Brisbane Road ground. Their last match at Lea Bridge Road was in April 1937 with the O's taking over Brisbane Road from Leyton Amateurs at the start of the following season.
*********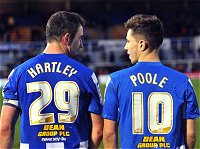 After Peter Hartley and James Poole each scored a goal for Hartlepool against Notts County on Saturday February 2013 their shirts were put up for auction with £1000 being raised for the club's Youth Development Fund. Get it - Hartley and Poole score for Hartlepool!

*********
The busiest turnstiles in English football were at Manchester City's Maine Road ground in the 1946/47 season when Old Trafford was closed due to wartime bomb damage and City shared their ground with Manchester United. Attendances were generally high in the first post-war League season but particularly so in Manchester were City finished as Second Division champions and United were runners-up in the First Division. When those crowds were added to the numbers who attended an England v Wales international, an FA Cup semi-final and the Wigan v Dewsbury Rugby League Championship play-off final played at the ground some two and a quarter million attended fixtures at Maine Road, a record for any English football ground.
*********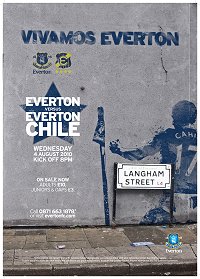 One export that Britain has supplied to every corner of the world is football. In 1909 a group of teenagers in Chile formed a football club and named it Everton after our Everton who had toured South America that year. The South American Everton have proved to be one of the top sides in Chile, winning the national championship four times. In August 2010 the South American side made a pilgrimage to Goodison Park as a delayed part of their centenary celebrations to play a unique match...Everton v Everton. The English Everton beat the Chilean Everton 2-0 to win the Brotherhood Cup in a match that was shown on live TV in Chile.
*********
Over the years many an animal has found itself on a football pitch - dogs, chickens, squirrels, foxes and Vinnie Jones to name a few!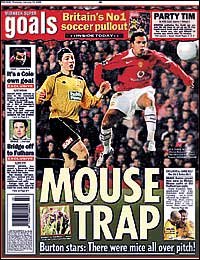 When Burton Albion lost an FA Cup Third Round replay in January 2006 5-0 at Manchester United they complained that they hadn't just been sharing the Old Trafford pitch with their opponents but also with some unexpected visitors - mice. Most grounds have the occasional rodent problem in the spectator areas as a result of large amounts of discarded food waste but it is a tad unusual to find them invading the pitch during a match. United's next match at Old Trafford was against Liverpool four days later and as one United fan said 'Rafa Benitez may think he's the big cheese but I still think Fergie's boys can squeak through'.
But perhaps the strangest creature to be rescued from a football pitch was a....fish! Back in January 2005 Carlisle United's Brunton Park ground was drying out after severe flooding but just before the pitch was finally cleared of water a goldfish was found swimming around the goalmouth. Apparently it had found its way to the ground after escaping from its bowl in a nearby flooded house. Nicknamed Billy after the half-human, half-fish creature who was Fulchester United's goalkeeper in the Viz comic, it was rescued and put in a tank. It proved to be a lucky mascot for the Cumbrian club who were in the Conference at the time. A Carlisle spokesman was later to say about Billy - 'It's fair to say that the good luck tag has been an appropriate one for Billy. From the comfort of a fish tank in the reception at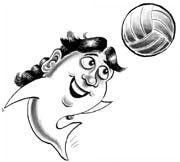 Brunton Park he has overseen United's return to the Football League, the League Two title triumph, trips to the Millennium Stadium and the new Wembley Stadium and even a club record run of 14 consecutive home victories in the 2007/08 season.' Rumour has it that rather than sack unsuccessful managers for a while club chairman took the cheaper option of buying a tank of fish!
*********
The title of the loudest fans in the world goes to the supporters of Turkish side Galatasaray. On 18th March 2011 in a local derby against Fenerbahçe at their Türk Telekom Arena in Istanbul a peak noise level was recorded of over 131 decibels. In England a noise survey was held in the 2010/11 season and found that Liverpool fans were the loudest at 97 decibels followed by Manchester United at 94 decibels and Aston Villa on 89. As a comparison continued exposure of noise at the 90 decibel level can result in hearing loss, the pain threshold is about 115 decibels while the noise from the Galatasaray crowd is about the same as listening to a jet engine 100ft away.
*********
With 366 possible dates for a birthday its a bit of a coincidence when two Premier League managers share the same birthday. But what are the odds of those two managers up against each other for the first time - on the day of their birthdays? It happened in 2013. Queen's Park Rangers manager Harry Redknapp and Mauricio Pochettino of Southampton were both born on March 2nd and on March 2nd 2013 their opposing sides met each other in a Premier League match at St Mary's. With 'Arry having had a bit of 'history' at Southampton the home fans made his return to the South coast more than a little uncomfortable but he ended up with the main birthday present - 3 points - with QPR winning 2-1.
When Arsenal recorded a 3-0 Premier League victory over Sheffield United back in the 2006/07 season remarkably all three goalscorers shared the same birthday. The first goal came from William Gallas and the third from Thierry Henry (both born on 17th August 1977) and in-between them Sheffield United's Phil Jagielka (born 17th August 1982) scored an own goal. The perfect conclusion would be to say the match was played on 17th August but sadly no - September 23rd 2006.
*********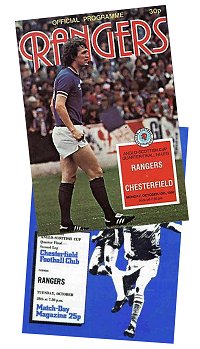 Not many clubs can boast that one of their finest hours was in the Anglo-Scottish Cup, but Chesterfield can. They won the competition in its final season, 1980/81, but it is perhaps not the winning of the trophy but one of the ties that is best remembered. The only Scottish club they played was the mighty Rangers at the quarter-final stage and they beat them 4-1 on aggregate. The clubs drew 1-1 at Ibrox before 14,000 fans and then on Tuesday October 28th 1980 Chesterfield beat Rangers 3-0 at Saltergate before 13,914 fans.
After having progressed from a qualifying group that put them up against Grimsby, Hull and Sheffield United the Spireites then eliminated Rangers before getting the better of Bury in the two-legged semi-finals. The final was against near neighbours Notts County who were beaten 2-1 on aggregate with 23,000 fans watching the two ties.
*********
I always thought that it was a given that Liverpool were going to have a new stadium. Not so from what one of the clubs' owners, John W. Henry, said in June 2012 -
"Whatever the reason, a belief has grown that Liverpool must have a new stadium to compete with United, Arsenal and others. Nobody has ever addressed whether a new stadium is rational. The difference [with Chelsea, Arsenal and others] stems as much from revenue per seat as the number of seats. Even if Liverpool had 60,000 seats, there would have to be an increase from £900 to £1,550 in revenue per seat as well to catch Arsenal. Can Liverpool as a community afford Chelsea or Arsenal prices? No. Our future is based building a strong club that can compete with anyone in Europe. This will be principally driven financially by our commercial strength globally."
I think what he was saying was he would rather take money out of the coffers than put it in!