POSTPONED MATCHES
Matches have been postponed for every imaginable reason - and a few unimaginable ones - but by far the main reason is the weather. Frozen conditions top that list. The referee has sole responsibility for judging if a pitch is playable - in particular if it is safe for the participants to play on - though with modern undersoil heating it's not always because the pitch is frozen and unplayable that forces the postponement. Unsafe terraces/stands or approaches to the ground will also force a postponement, the police and local authority also having responsibility in these areas. At Christmas 2010 what would have been my first visit to Hillsborough for a match was prevented by a postponement when the Sheffield City Council deemed that the match could not take place because of frozen and burst pipes which served the toilets and refreshment kiosks.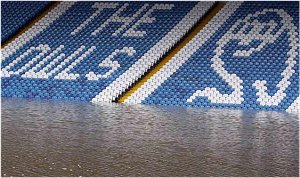 Again with waterlogged pitches the referee is the person who makes the decisions. Some decisions might to open to debate, some perhaps not so as will be seen from the picture of Hillsborough after the River Don flooded. Carlisle United's Brunton Park is another League ground prone to flooding from a nearby river and the consequences are severe for the clubs affected by such flooding. Its not just a case of letting the ground dry but specialist cleaning is needed because of the amount of sludge left behind which is usually contaminated with raw sewage.
High winds occasionally call a match to be called off usually because of structural damage to a roof causing public safety concerns. Rare, but a recent example was the Tranmere v Rochdale fixture that should have been played on Boxing Day 2011.
*********
There was a time, before global warming came along, when winters in this country were long and cold with snow a regular feature in all parts of the country. By far the worst winter to affect football was in the 1962/63 season when a 'big freeze' decimated football in this country for three months with hundreds of matches being called off or abandoned.
The freezing conditions hit the country just before Christmas 1962.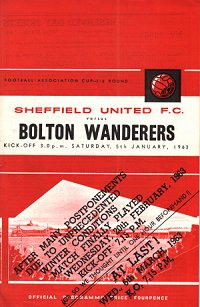 For the next three months the list of postponements indicate just how bad things were. Only three FA Cup third round ties were played on the scheduled date, January 5th, with the last tie in that round being played on March 11th. The Lincoln v Coventry tie was called off 15 times and fourteen of the other ties suffered ten or more postponements (also causing problems for programme printers, see right). From December 8th, when they beat Spurs 1-0, to 16th February when they lost 3-2 at Arsenal, Bolton Wanderers did not play a single competitive match.
Various ideas were tried to beat the freeze - including a tar-burner at Chelsea and flame-throwers at Blackpool. However, even if a pitch was made playable the terraces and surrounds to the ground were often left treacherous, forcing a postponement.
The Football Pools were a far more important part of life in the 1960s than they are now and the postponements obviously hit them hard as well. After three Saturdays in succession when the coupons were declared void the 'Pools Panel' came into being. The first panel of experts consisted of four former players (Ted Drake, Tom Finney, Tommy Lawton and George Young) and a former ref (Arthur Ellis) and determined the results for four more Saturdays and became a regular feature in the winters to come. In their first Saturday of deliberations, January 26th 1963, the chairman of the Panel, Lord Brabazon, declared seven draws, 23 home wins and eight away wins.
It wasn't until March 16th - nearly three months after the big freeze started - when a complete programme of football was played again. The season was eventually extended to the end of May.
*********
The 1946/47 season - the first post-war League season - was another decimated by a bitter winter. Well over a hundred League matches were postponed and it wasn't until mid-June - seven weeks after the Cup Final was played - that the season finally came to an end. At one point the Government asked for matches to be postponed. With no floodlights re-arranged matches were played on midweek afternoons but with coal stocks low and industry almost at a standstill the Government wanted to stop midweek football to prevent absenteeism from work by the supporters. The fight for the League title was a close one with four clubs separated by just two points in the final table, the destination of the championship only being decided on the last day of the season. Stoke needed to win their last match at Sheffield United on Saturday June 14th to win the title on goal average - they lost, and the title went to Liverpool (League table and results). Most in the Potteries believed that they had thrown away their chance of the title when they had transferred Stanley Matthews to Blackpool for £11,500 just a month before the end of the season. On Merseyside, though, many thought the deciding factor was a more unusual one - diet. In the summer of 1946 Liverpool had spent a month in the United States where they had played - and won - ten friendly matches. During that time their staple diet had been steak and orange juice which were never on the menu in Britain because of rationing. Many believed that diet gave the players the added strength they needed to be successful in such a long season.
*********
The British record for postponements for a single fixture not surprising is for a match in the 'Arctic' north of the country. The Scottish Cup 2nd Round tie between Inverness Thistle and Falkirk was scheduled for 6th January 1979. However after 29 postponements it was finally played on February 22nd 1979. Falkirk won 4-0 in the 30th attempt to stage the match. Three days later Falkirk lost 1-0 at Dundee in the first attempt to stage the Third Round tie!
*********

Some fixtures are jinxed. The Division 1 match between Spurs and eventual champions Everton at White Hart Lane in 1969/70 was one of them. The match was originally scheduled for Saturday 29th November 1969 but a heavy fall of snow just before kick off time forced a postponement. The re-scheduled date was Wednesday 17th December and the match started but only lasted 30 minutes before being abandoned when a fault at a sub-station caused floodlight failure. Wednesday 7th January 1970 was the next date pencilled in for the fixture but that one didn't happen either when Spurs had to play an FA Cup replay that evening. The match was finally played on Wednesday 11th March and after a near three month wait and three different programmes being printed Spurs lost one-nil! Ironically Spurs' next match was three days later and was the return fixture against Everton at Goodison. That went ahead at the first attempt and Spurs lost that one as well, 2-3.
*********
An unexploded Second World War bomb found near Sheffield United's Bramall Lane home forced the postponement of their Second Division game against Oldham on Sunday February 9th 1985. Safely disposed of, the match was played three days later.
*********
Thankfully many serious infectious diseases spread by person to person contact are a thing of the past in this country. But there was a time when football matches were postponed to prevent large crowds gathering and spreading disease. Past examples of this were at Blackburn in 1965/66 due to a polio outbreak and Middlesbrough in 1897/98 because of smallpox.
*********
My prize for the most bizarre postponement goes to the Torquay v Portsmouth Worthington Cup First Round fixture which was due to be played at Plainmoor on Wednesday August 11th 1999. It was the date of a total eclipse of the sun which was visible in the Torquay area, the first in Britain since 1927. Despite the fact that the date and location of the eclipse was probably known about for hundreds of years the local police left it until shortly before the match to request a postponement. They decided that they didn't have the manpower to police both the match and the influx of visitors expected in the area to witness the eclipse. They couldn't put off the eclipse so a postponement of the match it was! The match was eventually played on Tuesday 17th August.
*********
Some of our football grounds are antiquated and when a Victorian sewer under Anfield's Kop collapsed Liverpool had to postpone their first three home Division 1 matches of the 1987/88 season while repairs were made. It delayed the home debut of one of Liverpool's legendary players - John Barnes - who eventually made a scoring home debut against Oxford United on Saturday September 12th 1987.
*********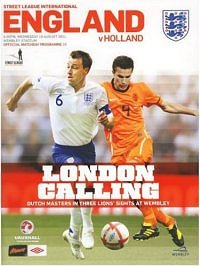 A number of matches in England have been abandoned because of rioting fans but thankfully football has not been affected by civil unrest - until 2011 that is. In August 2011 riots in the streets of Tottenham spread to other parts of the country. The rioting coincided with the start of the football season and because of the need for the police to concentrate their resources on the public disorder rather than policing football matches several fixtures were postponed in areas of potential conflict. Carling Cup ties in London (Charlton v Reading, Crystal Palace v Crawley and West Ham v Aldershot) and Bristol (City v Swindon and Rovers v Watford) were all postponed as was Tottenham's opening Premier League game at White Hart Lane against Everton which was scheduled for Saturday 13th August 2011. The highest profile casualty though was England's prestigious friendly against Holland which should have gone ahead at Wembley on Wednesday August 10th. That wasn't the only international casualty. Such is London's claim to be the home of world football a friendly between Ghana and Nigeria also had to be called off - it had been due to have been played on August 9th at Watford's Vicarage Road ground.
*********
Back in the 1946/47 season West Ham United were due to make the long trip to Newcastle for a Division 2 fixture. However the match was called off because of a frozen pitch but Newcastle forgot to tell the Londoners. West Ham spent £77 travelling to St James Park but when they arrived at the ground the place was deserted!
*********
It caused problems all round in Scottish football when Rangers found themselves in the Third Division of the Scottish League at the start of the 2012/13 season. Not the least of the problems were for the administrators of the clubs they visited who - more used to attendance of two men and a dog - found themselves making arrangements for almost unheard-of capacity crowds. It proved a little too much for Elgin City for their top-of-the-table clash scheduled for Sunday November 25th 2012. An error saw them sell over 25% more tickets for the match than the 4500 capacity Borough Briggs ground could hold. Fearful of the consequences of a 1000 or so ticket holders being refused admission to the ground the fixture, which was due to be shown live on TV, was called off on health and safety fears.
*********
A significant part of the financial losses of a postponement can be the cost of the wasted programmes. If the date of re-arranged fixture is close to the postponed match often the same programme will be used with a supplement added to update the club news and squad details. If a new programme is printed the original one will have a value to collectors although how valuable it is will depend on how many the club try to sell compared to how many go to the recycler. One particularly rare single-sheet programme was auctioned in 2005 and sold for £320. The match was due to have been played in occupied Guernsey on June 8th 1943 but became the only match in the British Isles ever to have been called off by the Nazis. Guernsey side Les Vauxbelets Old Boys Association was due to have played a Continental XI consisting of slave workers who had been brought into the Channel Islands from various parts of occupied Europe, but the Germans wouldn't allow it to take place. Did it give the idea for the film 'The Great Escape' I Wonder?
*********
There isn't always universal agreement as to if a match should be postponed Back in March 1974 Halifax Town and Exeter City asked the Football League to postpone matches because their respective playing squads had been decimated by injury and illness. In Exeter's case they had medical certificates for 9 unfit players which left them with just 9 fit players, two of them goalkeepers. Halifax were given permission to postpone their Division 3 match at Bournemouth on Saturday March 30th 1974 but Exeter were refused permission to call of their matches against Peterborough the same day and Scunthorpe 3 days later. They played, and lost, their home match against Peterborough but refused to travel to Scunthorpe to fulfil their Division 4 fixture at the Old Showground scheduled for Tuesday April 2nd. There was speculation that Exeter's punishment might be expulsion from the Football League but later in April it was announced that the Devon side had been fined £5000 for not fulfilling the fixture and in addition were ordered to compensate Scunthorpe £1094 for the lost gate receipts and expenses. It was a massive sum for a Division 4 side to pay. Uniquely the two points were awarded to Scunthorpe and the match was not ordered to be played. It is the only fixture in Football League history that was never played.
*********
Fast forward to December 1996 and Middlesbrough tried the same stunt as Exeter, but suffered disastrous consequences. Middlesbrough called off their Premier League game at Blackburn without permission the day before the scheduled date of Saturday 21st December 1996. Manager Bryan Robson claimed that they were unable to field a competitive team as they had 23 players unavailable because of injury, illness or suspension. At the Premier League inquiry in January Blackburn argued that they should have been awarded the points but the match was ordered to be played and Middlesbrough suffered a 3 point deduction and a £50,000 fine. Middlesbrough drew at Blackburn when that match was played but for a club in the relegation area that three point deduction was to see them relegated. Had they had played the match in December - and had not suffered a thumping - they would have stayed up. It proved to be a sad season for Middlesbrough - relegated and beaten finalists in both the FA Cup and League Cup.
*********
The Football League has also threatened draconian measures against clubs when postponements were far from intentional. Back on January 14th 1981 a blizzard prevented the Hull City coach getting over the Pennines resulting in their Third Division fixture at Burnley being postponed. The Football League were not too chuffed at Hull's lack of foresight, fining the club £2500 and warning them that if the same was to happen again a points deduction or even expulsion from the League would be considered.