THE FOOTBALL PROGRAMME MISCELLANY........
Football programmes - well at least the forerunners of programmes as we know them - have been around since organised football started back in the 1870's. Originally they were based on cricket scorecards being little more than a single card printed with the names of the respective teams and were given away free or sold for a halfpenny. Many of the cards were issued by advertisers rather than clubs themselves - even in those days football was seen as a way advertisers could get their message through to the masses. With football attendances growing and with it the potential of increasing advertising income the clubs saw the programme as a valuable source of income. So in a nutshell money saw the programme increase in size from their single-sheet origins to the magazines we are all now used to. In my opinion the best record of the development of programmes over the years - as well as an amazing history of a single club - can be found in the Everton Collection. I don't like to see you go but if you would like to take a look, click on http://www.evertoncollection.org.uk.
*******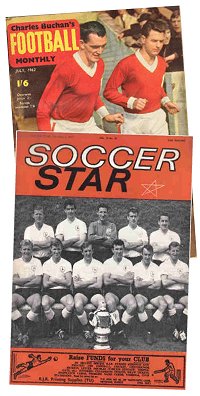 So, when did collecting programmes start? Given that I think that we all have a collecting gene in us I guess from the day programmes were first issued. But when did it start becoming popular? I would say from the late 1950's. When I started attending matches in the early 1960s there were no club shops and all you could buy at the match was a programme, a rosette and a club badge. So programmes it was. They were cheap, they were small and so easy to store and cheap to send by post. They had no great value so it was not unusual for a friend or family member to say 'I know that I have got some programmes in the loft' which was followed by a gift of some amazing programmes. Programme dealers started to appear - amongst the first were David Stacey of Wickford and the Manchester Programme Shop and their adverts in the likes of Football Monthly and Soccer Star allowed collectors to build up a varied collection from a single source. Just look at some of those old ads - cup finals, internationals and even Northern Rhodesia v Bolton for just a few pence each! The Soccer Star also offered free ads to collectors who wanted to make exchanges. Clubs started to see that money could be raised from old programmes and the likes of Bill Mainwood at Watford, Ian Mills at Notts County, Harold Finch at Crewe, Barry Watson at Doncaster and Sid Woodhead at Grimsby all ran very successful programme shops with programme fairs also bringing together the collecting fraternity.
Programme collecting was probably at its peak in the 1980s and since then there was been a decline in its popularity. The reasons? Well, the modern programme has turned into a magazine which is expensive to buy, bulky to store and costs a small fortune to send by post. Programme Shops have made way for Club Shops which sell practically everything but programmes - not profitable enough....and they make the place look untidy! Usually they have no more than a few unsold current

season issues. And perhaps worst of all the new collector doesn't seem to get the gifts of programmes to encourage the collecting bug. I well remember being given the 1953 England v Hungary and Blackpool v Bolton FA Cup final programmes plus dozens of pre-League Peterborough programme - nowadays with ebay and the major auction houses arranging sales of sporting memorabilia everyone has an idea of the value of programmes. Sadly often an exaggerated idea of the value. the humble programme is no longer humble!
*******
Programme Misprint 1. As all self-respecting anoraks will know Millwall were once known as Millwall Athletic. They became just Millwall in the early 1900s but memories are long and 60 years or so later a number of programmes made the mistake of introducing their London visitors as Millwall Athletic. Sheffield United were the first, in August 1968, followed by Leicester in the 1969/70 season. Amazingly no-one seemed to have had a quiet word with the Leicester programme production team because a year after first making the mistake they made the same mistake again. And the mistakes on the cover were not isolated ones which each programme also continuing with the error on the team pages, pen pictures and team picture. It has to be said though that Leicester seem to have more than a passing interest in the past. Back in February 2003 fans had a vote on if Leicester City should revert to their former name of Leicester Fosse. The Story.
*******
Programmes get a rarity value for many different reasons. The 1924 Aston Villa v Newcastle United FA Cup Final programme is the rarest of all Wembley cup finals for a couple of reasons. First their was a four-fold increase in price since the previous final, from 3d to one shilling (a shilling is 5p), which put people off buying any - and then there was the rain. The Wembley of 1924 was not the completely covered ground of the modern era and when it rained over Wembley in 1924 you got wet. Unless, that is, you used your programme as a makeshift umbrella which many people in 1924 did. As a result not many 1924 FA Cup final programmes survived intact.
Fast forward to early 1974. It was a time when we had miners and we relied on the coal they produced to keep us supplied with electricity. When they went on strike the lights started to go out - literally in the case of football. To conserve coal supplies the first three months of 1974 saw a three-day week imposed on businesses - including football clubs - allowing use of electricity only during those three days. Floodlights were considered a non-essential use of electricity and so they were turned off - matches having to be played on week-day afternoons rather than evenings and kick off times being brought forward on Saturdays. The Rochdale v Cambridge United 3rd Division match was one that was played at an awkward time - on a Tuesday afternoon in February - and was watched by a crowd of just 450. Sunday football was introduced for the first time largely due to the hope a better electricity supplies on a Sunday (Sunday football). The effect on the humble programme? Well, Sunday programmes were a new collecting opportunity but for the most part many programmes from the era of the three day week have become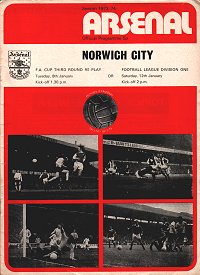 amongst the most elusive for collectors to get their hands on. Because of the lower attendances fewer programmes were issued and because the printers were only part part of the week many of the 'programmes' that were printed were no more than single page team sheets.
In January 1974 Arsenal issued what surely be a unique programme because of the three day week. Drawn away to Norwich in the FA Cup they knew that their next home match would either be a Cup replay against Norwich or a League match against the same opposition. If they waited for the cup result they wouldn't have had time to produce a programme for the replay which would have been played three days later so they issued a programme which could be used for either match with the following explanation in the programme -
This Programme
The three-day working week has caused us considerable problems with the production of this programme. The three working days allocated to our printers are Thursday, Friday and Saturday, which meant that if we drew at Norwich, it would not be possible to produce a programme for the replay on the following Tuesday. To us a Cup-tie without a programme seems reprehensible. The solution lay in the fact that we were to play Norwich in the League on the following Saturday, so even before the Cup-tie at Norwich, this programme was printed to serve a double purpose - the replay, or if no replay, the League match. If it is used for a replay, then we then have Thursday, Friday and Saturday to make arrangements for some sort of programme for the League match. It was the only course open to us in the circumstances.
Arsenal won the cup match 1-0 - problem over! Arsenal results 1973-74.
*******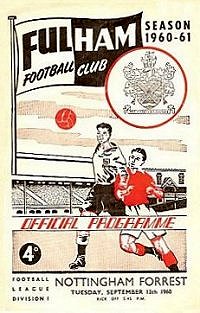 Programme Misprint 2. When Fulham entertained Nottingham Forest in a First Division match in September 1960 life was probably as good as it got for Fulham fans. They were watching a team that included Tony Macedo, George Cohen, Alan Mullery and Johnny Haynes beat Forest 1-0 to lift themselves to the amazing heights of 7th in the top division. Then, as now, some achievement. The crowd wasn't brilliant - just 13,630 - but at least everyone of them who bought a programme had something to smile about. If you are going to make a spelling mistake in a programme you would prefer it to be bottom of page 17 and certainly not on one of the most prominent parts of the front cover. Now where was the proof reader? Still it has to be said that Forest supporters reckon that the name of their club is the most frequently misprinted name in the League - how often have you seen Notts Forest on the cover of a programme?
*******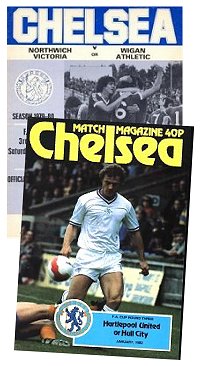 Are Chelsea unique in issuing programmes for two matches when it hadn't been decided who they were playing? Because of a combination of Christmas/New Year holiday printing deadlines and bad weather Chelsea needed to get programmes printed for two FA Cup 3rd Round ties before they knew exactly who they would be playing. So they printed programmes with either/or opposition on the cover and full details of both possible opponents inside. The first of those was in January 1980 when a combination of an abandonment, a draw and postponements meant that the Second Round tie between Wigan Athletic and Northwich Victoria hadn't been decided shortly before one of them was due to play at Stamford Bridge in the Third Round. So to cover both options Chelsea issued a programme against either Northwich or Wigan. As it was the Second Round tie was only decided on the Monday after the Third Round match was due to have been played and a week later victors Wigan duly visited Stamford Bridge to record a shock victory over the Londoners in the Third Round. Full 1979/80 FA Cup results. The same thing happened two years later when poor weather delayed the outcome of the Second Round match between Hartlepool and Hull and Chelsea did the same again - this time issuing an undated programme with the opposition being either Hartlepool or Hull. It was Hull who won through to play at Stamford Bridge, the Third Round tie eventually being played over two weeks after the scheduled date for Third Round matches. And just to add to the fixture chaos it ended in a draw! Full 1981/82 FA Cup results.
*******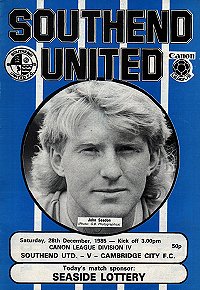 Programme Misprint 3. In Peterborough local legend has it that the only reason Cambridge United were voted into the Football League in 1970 (back then it was by a vote) was because the clubs thought they were voting for Cambridge City, City having traditionally been the more successful Cambridge club up to that point. As you can probably guess from that comment Peterborough United and Cambridge United share that special kind of local rivalry! But perhaps the people of Southend have heard the same thing because when Cambridge United turned up for a Division 4 match at Roots Hall on Saturday 28th December 1985 the front cover of the Southend programme introduced them as Cambridge City! For the record Cambridge United lost 1-0 in Cambridge City's only match in the Football League!
*******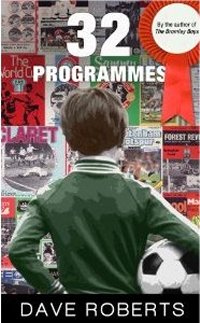 Books about programmes are usually nothing more than picture books of programme covers, the better ones having a description of the programme and perhaps a match report. At last there is something considerably better. 32 programmes is the story of Dave Roberts and his programme collection. When Dave moves to the USA, his wife informs him that they can only take what is 'absolutely essential'. Packing his collection of football programmes - 1134 of them - Dave is aghast to be informed that the programmes do not fall into that category. He must whittle down his treasured archive to only what will fit inside a Tupperware container the size of a Dan Brown hardback. 32 Programmes tells the story of how Dave made the selection of his most important programmes, and how the process brought back a flood of nostalgia for past times. As the sights, sounds and smells of those 1,134 football matches return, the choices Dave makes reflect the twists and turns that life takes. So if you could only chose to keep 32 of the programmes from your collection which ones would you keep?
*******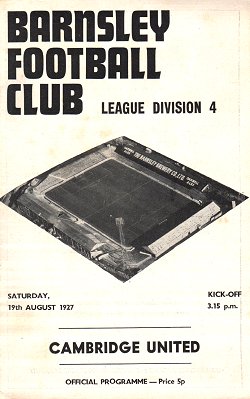 Programme Misprint 4. It's not unusual for programmes of January matches to be printed with the old year on the cover. I guess that mistake is just as easy for the programme proof-reader to miss as it for any of us. It's a little bit more unusual for a programme date to be a year out once January has passed and we become used to the date of the new year. Probably the most famous example of that is the Millwall v Derby Division 1 match played on Saturday September 3rd 1988 - but it was dated 1987. It was Millwall's first home match in the top flight. The biggest error on date I have come across is in the pen-pictures for the Charlton v Southampton League Cup tie in September 1976. For Hugh Fisher the pen-picture read 'Joined Saints back in 1679 from Blackpool' and not surprisingly it added that he was 'the club's senior professional'. It should have been 1967! But as far as errors on the programme cover go the biggest difference in date that I have come across is 45 years - the Barnsley v Cambridge United Division 4 match played on Saturday 19th August 1972 was dated 1927. How much would that programme be worth if it was a genuine 1927 issue I wonder?
*******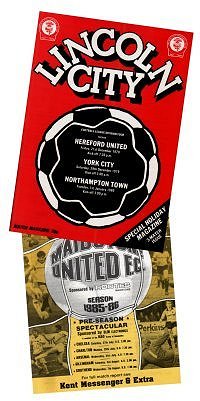 Well, I'm sure that we've all got tournament programmes in our collections but forgetting those which single programme covers the most amount of matches? For non-competitive matches the highest I have come across is a Maidstone United programme which covers 5 friendlies at the start of the 1985/86 season. Between Saturday 27th July and Wednesday 7th August 1985 Maidstone - managed by Barry Fry - played friendlies against Chelsea, Charlton, Arsenal, Gillingham and Southend with one programme covering the lot. For competitive matches it is not unusual to find a programme that covers 2 matches played over Christmas but my record is a programme that covers 3 matches played over the Christmas/New Year period. If nothing else its unusual for a club to have three home games during that period. Lincoln City did in the 1979/80 season with the programme covering matches at Sincil Bank against Hereford United, York City and Northampton. Can you do better?

*******
Programme Misprint 5. It seems like another lifetime but there was a time when Cloughie and his Nottingham Forest side ruled Europe. And they did it for two seasons - winning the European Cup in 1978/9 and retaining it the following season. Our continental neighbours also seemed to have a problem or two getting to grips with the name of the dominant East Midlands city. In May 1980 the programme for the final against Hamburg at Real Madrid's Santiago Bernabeu Stadium announced the match as Nottinghagm Forest v Hamburg. To be fair though the mistake was picked up and corrected to Nottingham but programmes with the spelling mistake did go on general sale. Perhaps a great tactic by the printers. Selling programmes to collectors adds many thousands to the total programmes sold and having two versions to collect - the properly printed and misprinted issues - must surely increase the print run. The cynic in me says that I'm surprised it doesn't happen more often!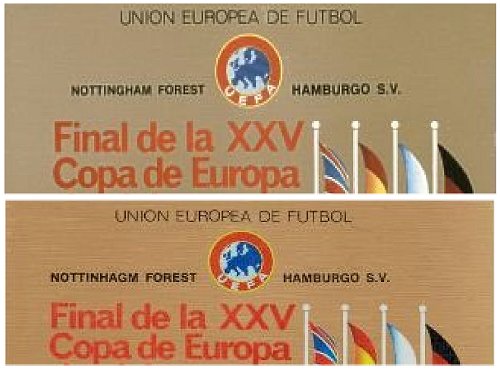 *******
The programmes with the most unlikeliest of opposition? My mind goes straight to matches played in the old First Division by Leyton Orient (1962/63), Northampton Town (1965/66) and Carlisle United (1974/75). Although its disappointing that sort of thing doesn't happen now the only way you can believe that they were once in the top flight is to see programmes of their matches against the likes of Arsenal, Liverpool and Manchester United. Not that Carlisle played Manchester United in 1974/75 - Manchester United had that season in the Second Division which saw another series of unlikely opponents on the cover of the United programme. But my top two choices go to matches played by a couple of unlikely non-league clubs. In June 1976 Rothmans Hellenic League side Thame United entertained Ajax. But perhaps best not to think of Cruyff, Bergkamp, Kluivert or van Basten it was Ajax's third team - but hey, it was still Ajax! Not that they made anything of it in the programme. Just four lines to welcome one of the most famous clubs in the world. Compare that with the pages of information about the match sponsors, King Harry Foods. They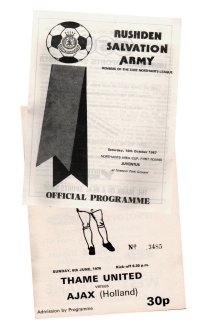 made over 1 million pizzas a month, supplied 65% of the UK market, sales had increased 700% in the previous 12 months.........just in case you might think it interesting! My top prize goes to Rushden Salvation Army v Juventus. No, not a spoof programme, the match between the respective first teams actually took place on Saturday 10th October 1987. Juventus included Insalata, Jankovic, Bizzotto, Ippolito, Delloruso, Abbandanza and Santoro. To be totally honest though I have to say please think less of Serie A Juventus and more of Peterborough League Division 5 Juventus with the match being in the First Round of the Northants Area Cup. There was a touch of class about the Peterborough Juventus though with Luch Dellorusso having once had a trial with AC Milan! I still wonder what was the reaction of the Sally Army players when they heard the draw and realised they had avoided Corby Hartlepool Candle, Yardley Gobion Reserves or the Bugbrooke St Michael 'A' team and would be up against Juventus. Did they all keep their programmes to bore their children and grandchildren of the story of when they played Juventus in the cup? I wonder?
*******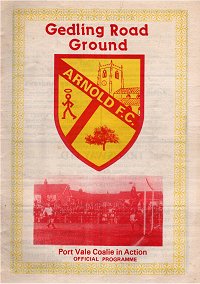 Programme Misprint 6. Founded in 1928, Arnold Football Club is not by any means the best known non-league football club, not even in their own Nottingham locality. Twice they have played Football League sides in the First Round of the FA Cup with their best performance being a home draw with Port Vale in November 1977. It was perhaps not surprising that they would want to commemorate that achievement. They did that with a picture on the cover of their programme of the Port Vale goalie in action. Except that on the programme it said the Port Vale coalie in action. And not just for one match - it was a pre-printed cover for the whole season so every home match that spelling mistake had to be endured by every programme purchaser who knew how to spell.
******

Can you imagine Manchester United and Manchester City sharing a ground, or anything else for that matter? The same with Arsenal and Spurs or Everton and Liverpool. Well it did happen once - the two Liverpool clubs once shared a joint programme. It didn't catch on!
*******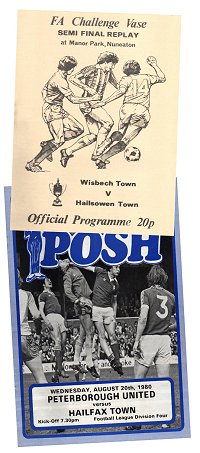 Programme Misprint 7. Stick 'Hailfax Town' into Google and you get 11,000 hits which just shows how easy it is to misspell Halifax Town. Sadly for Peterborough United one of those misspellings was on the front cover of the programme for the Fourth Division match between Posh and Hailfax Town, sorry Halifax Town, in August 1980, their first home League match of the season. Arnold Blades, Posh club secretary at the time, told me that the sight of that programme was one of his most embarrassing moments in football!
I have to say I know the feeling. In 1985 I produced the programme for the FA Vase semi-final replay at Nuneaton between local side Wisbech Town and Halesown Town. A big match for both clubs - it would decide which one would play in the Wembley final. It's not uncommon for Wisbech to be spealt Wisbeach. I managed the correct spelling for them but sadly not for Halesowen - the cover has them as Hailsowen Town. After delivering the programmes I didn't hang around to find out what they thought of them!

*******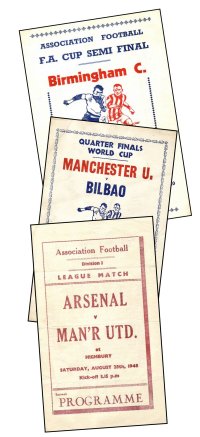 Well, you would think that buying a programme is easy enough but there was a time when even doing that was not as straightforward as it might seem. Unofficial pirate programmes have been around since the beginning of time but they were at their most popular in the late 1940s and 1950's when every top match seemed to attract one or more pirate issues. It was legal to sell the pirate publications provided they weren't described as official programmes - they were therefore sold as 'Souvenir Programmes' to unsuspecting fans. Not that many kept them as souvenirs as they were poorly printed and rarely had any content worth reading, seemingly produced by people who had no knowledge of football. Typical examples are pictured alongside - the Manchester United v Bilbao 'Quarter Finals World Cup' was in fact a European Cup tie. They are collectable although more novelty and rarity value than anything else.
Pirate programmes are still around. Check out ebay after any English side has played an away European fixture and you will find that print shops on the continent have cobbled together one or more unofficial issues. At least the pirate programmes of old were sold at the match they covered - most of the modern pirates haven't even been printed when the matches are played!
*******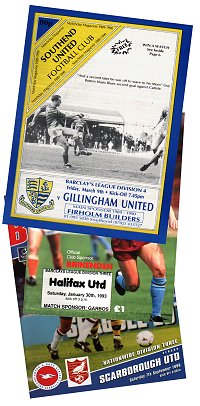 Programme Misprint 8. Well, the details of programme cover misprints given on this page is definitely not a comprehensive one with many more embarrassments having been recorded up and down the country. Just a few more - back to Southend again and their League visitors in March 1990 were Gillingham United rather than the correct Gillingham. In January 1993 Scunthorpe renamed their visitors as Halifax United rather than Halifax Town. In September 1996 Scarborough were re-christened Scarborough United when they visited the Goldstone Ground for a Division 3 fixture against Brighton. In April 1979 Oxford United entertained Lincoln City in a Division 3 fixture but the cover stated that it was a Football Combination - reserve team - match. Alfreton Town had their 15 minutes of world-wide fame when they beat Sheffield Wednesday 14-0 in a friendly in July 2011 - but on the programme cover they had the season as 2010/11. And the list goes on.... In fact with over 2000 League matches alone in a season I think we will never we without a misprint or two to keep us amused - and that's before we even open the programme to see what has been written inside!
*******
As mentioned earlier programmes originally came into being from cards listing the players and today knowing the team is still an essential part of watching a football match. The programme seems to play a lesser part in that nowadays, just listing squads and then relying on the PA system or TV screen to give the details or leaving it to us with the shirt numbers. The match I went to the other day - Fulham v Odense - is typical with a total of over 50 players listed in the respective squads, including a number 99 in the Odense squad! However probably the most iconic image in any programme is the team page when no players were listed for one of the teams. That was in for the first match played by Manchester United after the Munich air crash - a poignant reminder, if there needed to be one, of the loses suffered by Manchester United in the tragedy.
*********