Red & Yellow Cards
introduced in the Football League
The idea behind using red and yellow cards to indicate dismissals and bookings was that of Englishman Ken Aston. Having previously refereed at the highest level he was in charge of referees at the 1966 World Cup finals in England. The infamous sending off of Antonio Rattin in the quarter-final between Argentina and England, when Aston to go on the field to remonstrate with the player to leave the pitch, made him think that their had to be a better system of allowing a referee to make his intentions clearer to a player who might not speak the same language. As he drove away from the stadium the solution came to him - "As I drove down Kensington High Street, the traffic light turned red. I thought, 'Yellow, take it easy; red, stop, you're off'."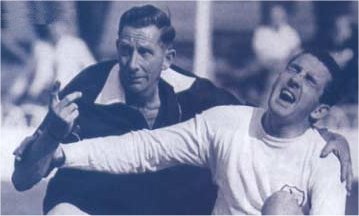 Ken Aston in his refereeing days.
The idea behind red card and yellow cards was to allow both players and fans to clearly understand when players had been dismissed or booked.
The cards were first used in the 1970 World Cup finals in Mexico. The first player in the Football League to see red was David Wagstaff, playing for Blackburn Rovers at Orient on Saturday October 2nd 1976. Later that afternoon George Best, playing for Fulham at Southampton, was also red-carded.
For a period between the 1980/81 and 1987/88 season the use of red and yellow cards was suspended in the Football League.