Birmingham City fans have long had to endure the chants of opposing fans that they have never won a major trophy. And they have a long history, having been formed in 1875.
Many fans had wondered if the lack of success was down to a curse put on the club in the early 20th century. In the early 1900s Birmingham (who were known at Small Heath until 1905) had outgrown their Muntz Street ground and were looking to build a new, larger stadium. The area where St Andrew's now stands was identified as the best potential site and a Birmingham director, Harry Morris, convinced the board that a new ground should be built there. At the time it was wasteland and before building could start a band of gypsies had to be evicted from the site and it was they who reputedly put a 100-year curse on the St Andrew's ground.
Things went wrong at St Andrew's right from the start and the first match at the new ground - a First Division match against Middlesbrough on Boxing Day 1906 - almost suffered a postponement due to a heavy snowfall. The kick-off had to be delayed for an hour while the pitch was cleared of snow with the 32,000 present eventually witnessing a 0-0 draw.
The club were relegated at the end of their first full season at the new ground and there were never to enjoy a consistent run of success. A number of attempts were made to counter the curse by club managers. Ron Saunders tried putting crucifixes on each of the floodlight pylons and later Barry Fry tried urinating in each of the four corners of the ground (well he said it was to try to get rid of the curse!). Nothing worked.
If there was a 100-year curse that surely would have ended on Boxing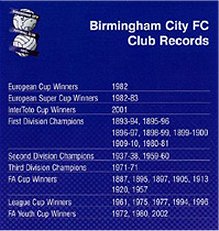 Day 2006, a century after their first match at St Andrews, and then Birmingham City could start winning things. Strangely that seemed to happen. Bluenose fans who had been given a 2007 Club Diary as a Christmas present must have had a shock when they looked at the Club honours page. In place of winning the Leyland Daf Cup and Auto Windscreens Shield was an impressive array of honours which included winning the European Cup, European Super Cup, seven League championships and another seven FA Cups. Perhaps there really had been a curse but instead of it stopping Birmingham winning honours it had just made their fans, well, a tad forgetful!
The reason was less supernatural than human. A mistake had been made by the diary printers and the honours won by near-neighbours and great rivals Aston Villa had ended up on the Birmingham City honours page. Embarrassment and apologies all-round but just to make sure things were clear Birmingham City announced, "We would also like to make it clear that Birmingham City Football Club has never won the European Cup." Now we know.