There was a time, before global warming came along, when winters in this country were long and cold with snow a regular feature in all parts of the country. By far the worst winter to affect football was in the 1962/63 season when a 'big freeze' decimated football in this country for three months with hundreds of matches being called off or abandoned.
The freezing conditions hit the country just before Christmas 1962.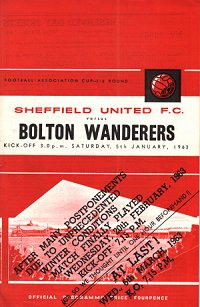 For the next three months the list of postponements indicate just how bad things were. Only three FA Cup third round ties were played on the scheduled date, January 5th, with the last tie in that round being played on March 11th. The Lincoln v Coventry tie was called off 15 times and fourteen of the other ties suffered ten or more postponements (also causing problems for programme printers, see right). From December 8th, when they beat Spurs 1-0, to 16th February when they lost 3-2 at Arsenal, Bolton Wanderers did not play a single competitive match.
Various ideas were tried to beat the freeze - including a tar-burner at Chelsea and flame-throwers at Blackpool. However, even if a pitch was made playable the terraces and surrounds to the ground were often left treacherous, forcing a postponement.
The Football Pools were a far more important part of life in the 1960s than they are now and the postponements obviously hit them hard as well. After three Saturdays in succession when the coupons were declared void the 'Pools Panel' came into being. The first panel of experts consisted of four former players (Ted Drake, Tom Finney, Tommy Lawton and George Young) and a former ref (Arthur Ellis) and determined the results for four more Saturdays and became a regular feature in the winters to come. In their first Saturday of deliberations, January 26th 1963, the chairman of the Panel, Lord Brabazon, declared seven draws, 23 home wins and eight away wins.
It wasn't until March 16th - nearly three months after the big freeze started - when a complete programme of football was played again. The season was eventually extended to the end of May.
The British record for postponements for a single fixture not surprising is for a match in the 'Arctic' north of the country. The Scottish Cup 2nd Round tie between Inverness Thistle and Falkirk was scheduled for 6th January 1979. However after 29 postponements it was finally played on February 22nd 1979. Falkirk won 4-0 in the 30th attempt to stage the match. Three days later Falkirk lost 1-0 at Dundee in the first attempt to stage the Third Round tie!