Football Facts & Figures
Almost everything you might want to know about
Premiership and Football League clubs
and the competitions they have played in


The Clubs
A season-by-season summary for each of the 136 clubs who have played in the
Premier & Football Leagues giving details of League record and round reached
in the F.A. Cup and League Cup.
Then click down to League tables and playing record for each season.

The Premier League and Football League
The champions of each division since the 1888/89 season, then click down to
League tables and seasons' results for each club.

The F.A. Cup
All the F.A. Cup Finals since 1871/72, then click down to results by season.

The League Cup
(includes Worthington Cup, Coca Cola Cup etc)
All the League Cup Finals since 1960/61, then click down to results by season.

European Club Competitions

League clubs results in Europe
Every result of Premiership/Football League clubs who have
played in European competition on a club-by club,
season-by-season basis

Champions League/European Cup
Europa League/UEFA Cup
European Cup Winners Cup
All the finals of the major European competitions since their formation, then click down
to results by season.

FIFA World Club Championships
European Super Cup

Miscellaneous

Community/Charity Shield (results, venues, teams etc)

Football Writers' Association Footballer of the Year
PFA Player of the Year
Premier League Manager of the Season
LMA Manager of the Year
France Football European Footballer of the Year
FIFA Ballon d'Or World Player of the Year
BBC Sports Personality of the Year

Colemanballs
Some hilarious 'foot-in-mouth' football quotes.

Did You Know...
Football has a million and one stories and just as
many facts and figures.
Here are a few of them - the record-breaking, unusual and bizarre.

Football Day by Day
Football is a 365 day a year game.
A reminder of some of the famous, record-breaking or bizarre things that have happened
Day by Day over the years.

Front Page Pictures
An unusual football partnership but an amazingly successful one.
Elton John took over the club he supported, Watford, in 1976 and the following year employed Graham Taylor as manager. Taylor had spent five years as Lincoln manager after a playing
career with Grimsby and Lincoln and had turned down the managers' job at First Division
WBA to take over at Watford - then in the Fourth Division. But by the 1982/83 they were in
the top flight finishing second to Liverpool and a year later were beaten FA Cup finalists.
Taylor left for Aston Villa in 1987 but although he had three years as boss of England and
another spell at Vicarage Road it was probably that first spell at Watford that saw his best achievement in football.
* * * * *
Mascots aren't a new invention - Amos helped Second Division Barnsley get to their first
FA Cup Final in 1910. It is believed that Amos was the jockey and not the donkey. But you can't imagine any modern groundsman letting a donkey anywhere near a pitch nowadays.
And I wonder how many of the people in the picture would have anticipated being looked at
over a century later on this inter-web thing!
* * * * *
No not a 1910 goal celebration being closely watched by a ref but Cumberland &
Westmorland wrestling - whatever that might be - staged at Carlisle United's Brunton Park ground in 1910, a year after the ground opened. That wooden stand survived until 1953
when an electrical fault started a fire which destroyed it.. The problem of having
no stand at the ground was solved later in the year when Carlisle transferred
Geoff Twentyman to Liverpool - the transfer fee paid for a new, tad more modern, stand.

* * * * *
The story behind the programme....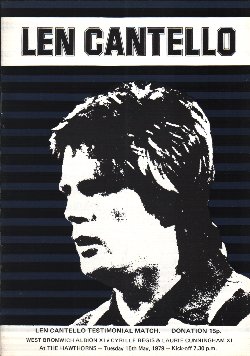 The Len Cantello testimonial match at The Hawthorns on Tuesday 15th May 1979. For those
of us who watched the thought-provoking BBC 2 programme presented by Adrian Chiles
Whites v Blacks: How Football Changed a Nation you might think that the match-day
programme would be dominated by an anti-racism theme and the justification behind the
makeup of the opposing teams. Not so. As you might expect with a testimonial the 12-page programme was all about Len Cantello who had started at The Hawthorns as an apprentice
in 1967 and by 1979 had made 298 League appearances for the club. Career notes,
playing stats and comments from football writers and players made up the normal
testimonial offering. No mention of Blacks v Whites although in his notes Len Cantello
does touch on the fact that it was obviously a sensitive subject: 'Tonight's main match is
one that has been applauded by many people and I do not intend to be drawn into the
political arena regarding the finer points. It has, and always has been, nothing more
than a football match and I am sure the fans will enjoy every moment.'
The All Blacks won 3-2 and 7,023 were present to see it.
* * * * *
If you did watch the BBC 2 Adrian Chiles programme
Whites v Blacks, How Football Changed a Nation
you will recognise this picture of the black players who made up one of the teams for the Len Cantello testimonial played at the Hawthorns on Tuesday 15th May 1979. The beat the team
of white players 3-2.
(left to right)
Back Row: Ian Benjamin (Sheffield United), Vernon Hodgson (WBA), Brendon Batson (WBA),
Derek Richardson (QPR), Stuart Phillips (Hereford), George Berry (Wolves), Bob Hazell (Wolves), Garth Crooks (Stoke);
Front Row: Winston White (Hereford), Cyrille Regis (WBA), Laurie Cunningham (WBA), Remi Moses (WBA), Valmore Thomas (Hereford).
* * * * *
Link - Previous Front Page Pictures
Please Note:
This site isn't complete. Given the rich history of football in this country alone it probably never will be!
My intention is to base this site on the Football League clubs and provide information t
hat is comprehensive, interesting and accurate. Already the site consists of over 3200 pages
and new pages are being added on a very regular basis so if the info you are after is not listed now it hopefully will be soon.