Football Facts & Figures
Almost everything you might want to know about
Premiership and Football League clubs
and the competitions they have played in


The Clubs
A season-by-season summary for each of the 136 clubs who have played in the
Premier & Football Leagues giving details of League record and round reached
in the F.A. Cup and League Cup.
Then click down to League tables and playing record for each season.

The Premier League and Football League
The champions of each division since the 1888/89 season, then click down to
League tables and seasons' results for each club.

The F.A. Cup
All the F.A. Cup Finals since 1871/72, then click down to results by season.

The League Cup
(includes Worthington Cup, Coca Cola Cup etc)
All the League Cup Finals since 1960/61, then click down to results by season.

European Club Competitions

League clubs results in Europe
Every result of Premiership/Football League clubs who have
played in European competition on a club-by club,
season-by-season basis

Champions League/European Cup
Europa League/UEFA Cup
European Cup Winners Cup
All the finals of the major European competitions since their formation, then click down
to results by season.

FIFA World Club Championships
European Super Cup

Miscellaneous

Community/Charity Shield (results, venues, teams etc)

Football Writers' Association Footballer of the Year
PFA Player of the Year
France Football European Footballer of the Year
FIFA Ballon d'Or World Player of the Year
BBC Sports Personality of the Year

Colemanballs
Some hilarious 'foot-in-mouth' football quotes.

Did You Know...
Football has a million and one stories and just as
many facts and figures.
Here are a few of them - the record-breaking, unusual and bizarre.

Football Day by Day
Football is a 365 day a year game.
A reminder of some of the famous, record-breaking or bizarre things that have happened
Day by Day over the years.

Front Page Picture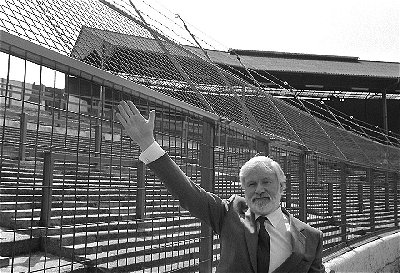 Back in the 1980's Chelsea weren't alone in suffering crowd problems but their response to an FA warning after a pitch invasion during a League Cup semi against Sunderland at Stamford Bridge in March 1985 was both unique and shocking. Controversial chairman Ken Bates had a 12-foot high electrified fence built around the pitch which was due to be switched on for a First Division match against Tottenham on Saturday April 27th 1985. Football supporters everywhere were outraged and
just 3 days before the proposed switch-on the Greater London Council threatened High Court
action - believing there to have been a breach of safety and planning rules - unless
Chelsea abandoned their intention of allowing the 12-volts to flow. The match against Spurs was planned to be a celebration of their 80th anniversary of first playing at Stamford Bridge but all the headlines were about that fence. The match ended 1-1 and the electricity wasn't switched on -
and never was.
* * * * * *
Link - Previous Front Page Pictures
Please Note:
This site isn't complete. Given the rich history of football in this country alone it probably never will be!
My intention is to base this site on the Football League clubs and provide information t
hat is comprehensive, interesting and accurate. Already the site consists of over 3200 pages
and new pages are being added on a very regular basis so if the info you are after is not listed now it hopefully will be soon.